This electronic edition scanned and edited by http://www.jrbooksonline.com  July 2006
[the map showing Staden's two voyages appears at the end of this file]
PART ONE
The watcher in the town,
The mighty ships upon the ocean:
If the Lord keep them not their labour is vain.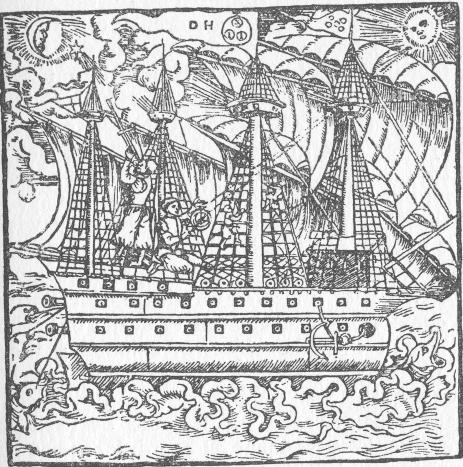 CHAPTER I
[The voyage to Portugal.]
I HANS STADEN of Homberg in Hesse proposed, if God willed, to see the Indies, and with this intention I travelled from Bremen to Holland, where at Kampen I lighted upon a boat which was sailing for Portugal to take in salt. I embarked accordingly, and on the 29th day of April of the year 1547 we arrived at a town called Sanct Tuval (Setubal), the voyage having
33 D
taken four weeks. Thence I reached Lisbon which is distant from St. Tuval (Setubal) five miles.8 At Lisbon I lodged at an inn owned by a man known as the younger Leuhr, a German, with whom I stayed some time.9 I spoke with the host, my countryman, and told him that if it were possible I desired to see the Indies. He informed me that I had delayed too long, since the King's ships bound for the Indies had departed. I asked him therefore, since he knew the language, to help me to find another ship, and told him that if he could do so I should be much in his debt.
Thereupon he took me to a boat where I obtained employment as a gunner. The captain's name was Pintiado, and he was bound for Brazil on a trading voyage, but he had leave to attack certain ships which were trafficking off the coast of Barbary with the White Moors, and to seize as prizes any French ships which he might find in Brazil trading with the savages.10 He carried with him also certain prisoners who had been convicted and sentenced to death, but who had been spared with the object of colonizing the New World.11
Our ship was well found and fitted with every kind of warlike contrivance which could be used at sea. There were three Germans on board, Hans von Bruchhausen, Heinrich Brant of Bremen and I.
34
CHAPTER II
My first voyage from Lisbon in Portugal.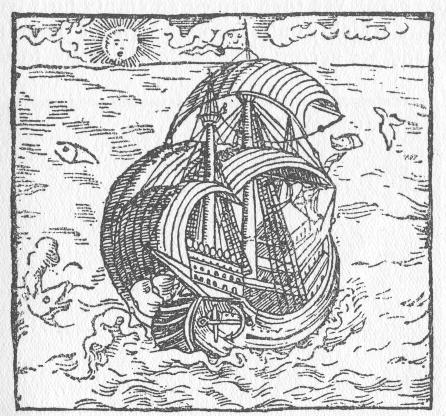 WE sailed from
Lisbon
, having with us another small boat also commanded by our
captain,
and arrived first at the
Island of Madeira
which belongs to the King of Portugal and is inhabited by the Portuguese. It is fruitful in wine and sugar. In this island, at a place called Funtschal, we victualled our ship.
Thence we sailed towards Barbary, to a town called Cape de Gel,12 which belongs to a king of the White Moors named Schiriffe. This town belonged formerly to the King of Portugal, but this Schiriffe took it from him again. We had expected to find here the ships I have mentioned above, which were trafficking with the infidel.
When we arrived and were close to the shore we came upon numbers of Castilian fishermen who informed
35
us that there were certain ships in the neighbourhood of the town, and as we sailed on there came out of the harbour a vessel which was very well laden. This ship we attacked and captured, but the crew escaped in the boat. We then espied an empty boat lying on the shore which would serve us well for boarding the prize, and we accordingly landed in order to take it.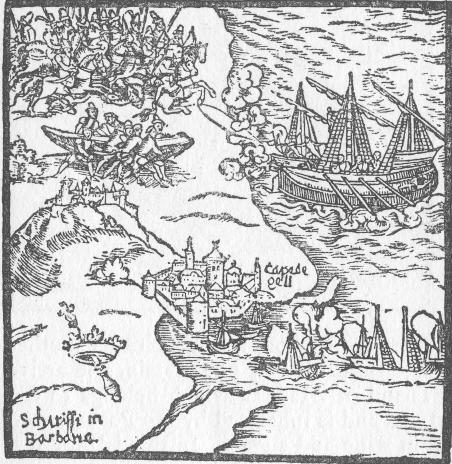 Thereupon the White Moors came down in force, intending to defend it, but they could not withstand our shots. We then returned to Madeira with our prize, which was laden with sugar, almonds, dates, goat-skins and gum-arabic, and dispatched the small boat back to Lisbon for orders as to how we were to proceed, since the cargo was the property of Valentian and Castilian merchants.
The orders received were to leave the cargo in the
36
island and continue our voyage, the King intimating that he would inform himself in the meantime concerning the whole matter. We thereupon returned to Cape de Gel seeking for further prizes. But our labour was in vain, for a land wind arose which hindered us.
On All Hallows Eve, driving before a great storm, we sailed from Barbary for Brazil, and when we were about 400 miles from the coast of Barbary great shoals of fish surrounded the ship which we caught with lines and hooks. Some of these, which the sailors called albakore,13 were large, others, called bonitte, were smaller, and others were called durado. There were also fish about as large as herrings which had wings on either side like a bat, and these were closely pursued by the larger fish. When chased they lifted themselves out of the sea, vast numbers of them, and flew some two fathoms high above the water, and others quite close to it, for as far as we could see. Then they dropped again into the water. We often found them in the morning lying on the deck, having fallen into the ship at night during their flight. They are called in the Portuguese tongue pisce bolador. Then continuing on our voyage we sailed under the equinoctial line where we encountered great heat, for the sun stood still above our heads as if it were perpetual . For days there was no wind, and at nights came great thunder-storms with rain and wind which departed as quickly as they came, so that continual watch had to be kept lest they should catch us unawares while we were under sail.
The wind now blew with great force for several days against us until we began to be afraid that if it continued we should die of hunger, and we cried to God for a favouring wind. Then it came to pass one night, when we were in the midst of a great storm and sorely troubled, that blue lights began to appear in the ship such as I had never seen before. Where the
37
waves ruck the bows, there the lights appeared. The Portuguese said that the lights were a sign of good weather and were sent by God to comfort us. And as we praised God the lights vanished. These lights are called Santelmo,14 or Corpus Santon. When day broke the weather improved, a light wind sprang up, and we knew that these lights were indeed a sign from God.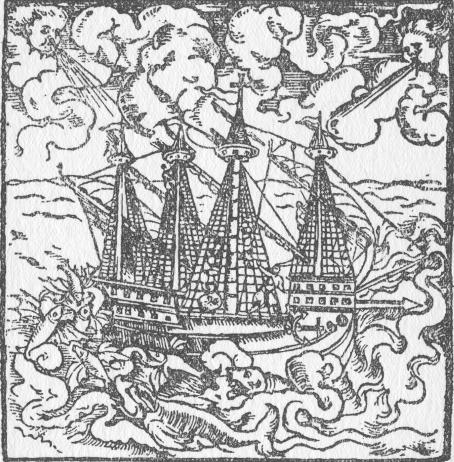 So sailing onwards, on the 28th day of January, we sighted a spit of land called Cape de Sanct Augustin.15 Eight miles farther on we reached the harbour of Prannenbucke (Pernambuco), having been eighty-four days at sea without sighting land. In this place the Portuguese had a settlement called Marin.16 The commander was named Artokoslio,17 to whom we delivered our prisoners and some of our cargo, intending to sail away and take in fresh cargo elsewhere.
38
CHAPTER III
How the savages of the place called Prannenbucke (Pernambuco) rebelled
and strove to expel the Portuguese from their settlement.
IT so happened that the savages who inhabit this place rebelled against the Portuguese who had enslaved them, and the commander besought us for the love of God to occupy a settlement called Garasu,18 five miles from the harbour of Marin where we lay, which had been attacked by the savages. The people at Marin were powerless to help the settlers, for they feared an attack from the savages.
Accordingly we set off to Garasu with forty men from our ship, travelling there in a small boat. The settlement lay in an arm of the sea which extended two miles inland. The defenders numbered some ninety Christians under arms. To them might be added thirty Moors and Brazilian slaves, the property of the settlers. The attackers were estimated to number about 8,000; we were closely invested and had only a palisade of rails to protect us.
CHAPTER IV
The nature of our defences and how they fought against us.
THE settlement in which we were besieged was surrounded by woods in which the savages had made two forts out of trees, and thither they retreated at night or when we attacked them. In addition they had dug pits in the ground, and here they lay hid during the day ready to attack us, and when we fired at them they dropped into the pits and so escaped our shots. Indeed, they had invested us so closely that we could not air. They approached the settlement
39
and fired arrows into the air, intending that they should fall upon us behind our defences. They used also arrows bound with cotton and wax which they lit, hoping to set fire to the roofs of our huts, boasting that they would eat us when they caught us. We on our part had very little to eat, and what we had was soon finished, for it was the custom to fetch daily or every other day fresh roots to make meal or cake, and now we could not stir to get them.
When we saw that we were becoming short of food we sent two boats to a place called Tammaraka19 for provisions, but the savages had thrown great trees across the channel and had assembled on either shore to prevent us. We were able to break through these obstructions, but about half way we ran aground. The savages could not reach us, but they threw down dry wood from their camp between the boats and the shore, intending to set fire to it and to burn the pepper which grows there, and thus to smoke us out of the boats. They did not succeed, however, and in the meantime the tide returned and we reached Tammaraka in safety and replenished our stores. We then set out on our return voyage, but once again the savages sought to stop us. They had thrown trees into the channel as previously, and were waiting in the shelter of the shore. They had also partly felled two trees and had tied them at the top with a plant called Sippo, which grows like a hop plant but is thicker. They made fast the ends in their camp, intending as we passed to pull the ropes so that the trees might fall and crush our boats.
The first tree, as we broke through, fell towards their camp, the second fell behind us in the water, and as we passed through we called to our companions in the settlement to come to our assistance. Then the savages set up a great shout so that the men in the settlement should not hear us, for there was a thick
40
wood between us and the camp, and our companions could not see us although we were close to them and they could have heard us if the savages had not raised their shouts.
At last, however, we reached the settlement with the victuals, and when the savages saw that they could do nothing they made overtures for peace and with-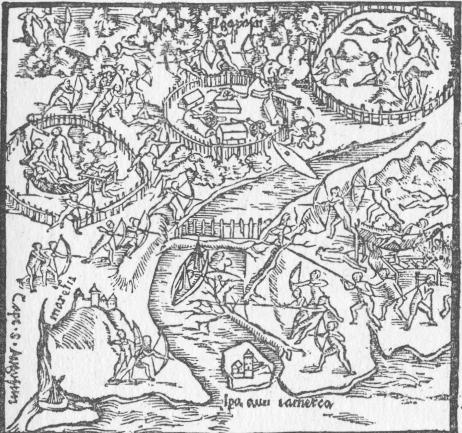 drew. The siege had endured almost for a month. Several of the savages were dead, but we had not lost a man.
When we saw that the savages desired peace we returned to our ship at Marin and took in water and mandioca meal, and the commander was much indebted to us for what we had done.
41
CHAPTER V
How we sailed away from Prannenbucke (Pernambuco) to a country
called Buttugaris and engaged a French vessel.
WE now sailed for forty miles to the harbour of Buttugaris,20 where we intended to ship a cargo of Brazilian wood and to raid the natives for food.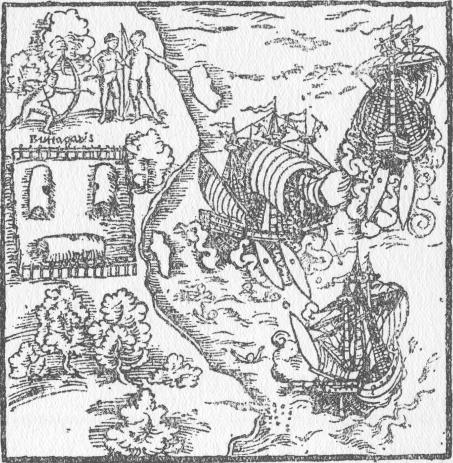 Here we fell in with a French ship which was loading wood, and we engaged it intending to capture it, but our mainmast was shot away and the ship escaped. Several of our men were killed or wounded.
We then determined to set out once more for Portugal, for the winds were contrary and we could not make the harbour where we intended to re-victual the ship. So we sailed homewards, short of victuals, suffering such hardship from lack of food that some
42
devoured the goat-skins which were on board. Each day there was served out to us a ration of water and a little meal made from Brazilian roots. We were 108 days at sea, and on August 12 we arrived at the Azores, belonging to the King of Portugal, where we anchored, rested and fished. Here we fell in with a ship which we hailed enquiring what it was. It turned out to be a pirate, and prepared to attack us, but we captured it, although the crew escaped among the islands in the boats. The ship contained a rich cargo of wine and bread which greatly refreshed us. After this we fell in with five ships belonging to the King of Portugal which were awaiting the fleet from the Indies to escort it home. We remained there and escorted an Indiaman to the Island of Tercerca (Terceira), where we remained. Here we found assembled a great company of vessels which had all come from the New World, some bound for Spain and some for Portugal, and when we left Terceira we were almost a hundred strong. We arrived at Lisbon about October 8, 1548, and our voyage had lasted sixteen months.
At Lisbon I rested for a time, but was consumed with the wish to see the new lands occupied by the Spaniards. I therefore left Lisbon in an English ship bound for Castile and landed in Porta Santa Maria where the captain wished to take in a cargo of wine. Thence I reached Seville where I found three ships being refitted which were bound for Rio de Plata in America. This country, with the gold district of Peru, which was discovered some years ago, forms with Brazil one continent.
Several ships were sent some years ago to conquer this country, but some returned for further assistance with the news that it was passing rich in gold. The commander of these three ships was Don Diego de Senabria,21 who was to become the King's governor
43
in the country. I attached myself to one of these ships, all of which were well found, and sailed from Seville to San Lucar, where the river from Seville enters the sea, and here we lay waiting for a favourable wind.
CHAPTER VI
My next voyage from Seville in Spain to America.
ON the 4th day after Easter22 in the year of our Lord 1549 we set sail from San Lucar, but the wind was contrary and we entered the harbour at Lisbon. Then, when the wind improved, we sailed for the Canary Islands and anchored close to an island called Pallama (Palma) where we took in wine for the voyage. And the navigators agreed that if the ships were separated at sea they would make for land in twenty-eight degrees south of the equinoctial line.
<![if !vml]>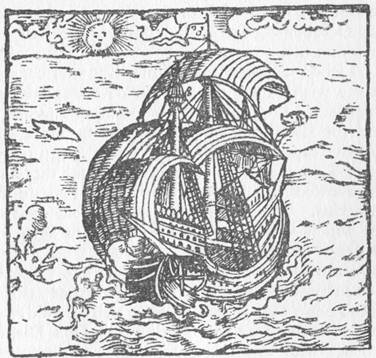 <![endif]>
44
From Palma we sailed to Cape Verde, that is the Green Headland, which lies in the country of the Black Moors, where we narrowly escaped shipwreck. The wind was contrary and carried us to the coast of Guinea which is likewise inhabited by the Black Moors, whence we reached the island of S. Thomé which belongs to the King of Portugal. This island is rich in sugar, but unhealthy. The Portuguese live there with numbers of Black Moors who are their slaves. Here we took in fresh water and sailed on, but in a storm during the night we lost touch with the two ships which accompanied us, and we therefore sailed on alone. The wind was still contrary, for it happens in these seas, where the sun is north of the equinoctial line, that the winds blow constantly from the south. In the same way when the sun is south of the line the winds blow from the north, and in general they blow continuously from one quarter for five months. Thus were we delayed for four months before we could make our course, but when September came the winds commenced to blow from the north, and we took our course south-south-west for America.
CHAPTER VII
In what manner we reached America in latitude twenty-eight degrees without finding the harbour to which we had been directed, and how a great storm arose of the coast.
IT came to pass that one day, namely November 18, when the steersman took the sun's height and found that we were in latitude twenty-eight degrees, we began to look out towards the west, and on November 24 we sighted land. We had been six months at sea and had escaped many perils, but when we drew near to land we could not discover the markings, nor the harbour to which the chief navigator had directed
45
us. Fearing to enter an unknown harbour, we luffed and hugged the coast. Then a great wind arose, and we expected every moment to be dashed to pieces on the rocks. We lashed empty casks together, filled them with powder and stopped up the bung-holes, tying our weapons to them, so that if we were ship-wrecked, and any of us came safely to land, we should find our weapons there, for the waves would carry the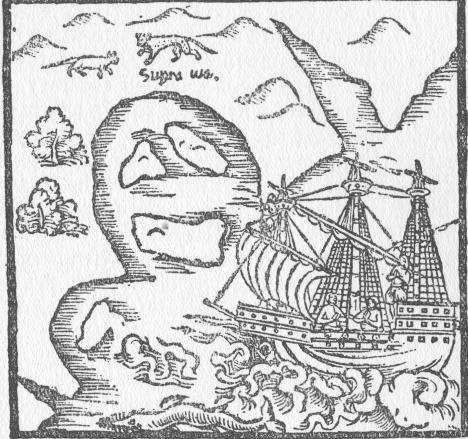 barrels ashore. We endeavoured to draw away from the land, but in vain. The wind carried us on to the rocks which lay submerged some four fathoms beneath the water, and so driven by the great waves always nearer to the shore, we commenced to abandon hope, expecting to perish together.
But in God's mercy, when we were almost on the rocks, one of our men spied a small haven into which we contrived to sail. There we saw a small ship which
46
escaped into the shelter of an island, so that we could not ascertain what ship it was. We did not follow it, but cast anchor, praising God that we had been saved from so great a peril, and reed and dried our clothes.
It was about two hours after when we cast anchor, and towards evening a great boat filled with savages approached us, desiring to speak with us, but we could not understand their language. We gave them knives and hooks and they departed. At night a second boat-full came out, bringing two Portuguese who asked us whence we came. We told them that we hailed from Spain, whereupon they said that we must have a skilled navigator on board to make the harbour, for although they knew it well, they would not have dared to enter it in such a storm. Then we told them how near we had been to shipwreck in the wind and waves, that when we had expected to perish the haven had opened suddenly before us, and that God had directed us to it and delivered us from death, and that we knew not where we were.
When they heard this they marvelled greatly and praised God, and told us that the haven was called Supraway (Superaqui), some eighteen miles from the Island of Sancte Vincente23 which belongs to the King of Portugal, where they lived, and that the ship we had seen had sailed away, thinking we were Frenchmen.
We enquired how far we were from the Island of Sancta Catharina,24 whither we were bound, and they told us that it was some thirty miles distant toward the south, and that there was a nation of savages called Carios of whom we should beware, but that the savages of the haven in which we found ourselves were called Tuppin Ikins and were their good friends, from whom we need fear nothing. They told us further that this land was in latitude twenty-eight degrees, which was correct, and they gave us certain indications by which we could know the place we sought.
47
CHAPTER VIII
In what manner we left the harbour to seek the country for which we
were bound.
WHEN the wind from the east-south-east had dropped it brought good weather, and sailing with a northeasterly wind we set out for the land we were seeking, but although we looked for it for two days we could not find the harbour. We could see by the lie of the land that we must have passed it, but the sun was so darkened that we could not take our bearings. Nor could we return, as the wind was contrary.
But God is a ready helper in time of need, and as we went to evening prayers and prayed for help, it happened that before nightfall heavy clouds arose from the south, whither the wind was driving us, and before prayers were finished the north-east wind dropped and blew so softly that it could scarcely be felt. Then the south wind arose, which is not generally met with at this time of year, and brought with it such thunder and lightning, that we were much afraid. The sea grew very rough, for the south wind met the northerly waves and it became so dark that we could see nothing. The crew were panic-stricken at the thunder and lightning, and no one knew how to handle the sails. That night we confidently expected to be drowned, but God ordained otherwise. The storm ceased and we were able to make for the harbour which we had left, but we could not find it on account of the many islands near the mainland.
When we arrived in latitude twenty-eight degrees the captain ordered the pilot to steer in among the islands and anchor so that we could see where we were. We sailed in between two islands where we found an excellent harbour: there we anchored and arranged to send out a boat to observe it more closely.
48
CHAPTER IX
How certain among us set of in a boat to inspect the harbour, and how
we found a crucifix standing on a rock.
IT was on St. Catherine's day in the year 1549 that we dropped anchor, and on the same day some of us departed in a boat, well armed, to examine the harbour. It seemed to us that we were in a river called Rio de Sancto Francisco which is in this province, and the farther we went the longer the river seemed to be.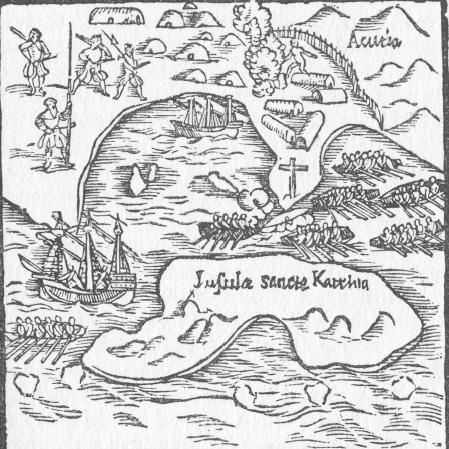 We looked about us to see if we could perceive any signs of smoke, but we saw nothing. Then we thought we could discern some huts in a clearing and passed close by, but they were old huts and there were no people in them. After this we came, towards evening, to a small island in the river, and made for it
49 E
intending to spend the night there and dispose ourselves as best we could. When we reached the island it was already dark and we dared not land for the night until certain among us went ashore to find out whether the island was inhabited, but we perceived no one. Then we lit a fire and felled a palm-tree and ate the pith and spent the night there, and when day broke we sailed on, for we were desirous to know whether the country was inhabited, since having found the huts, we did not think it could be wholly deserted. As we proceeded we saw from afar a piece of wood standing on a rock which looked like a cross, and we asked ourselves who could have placed it there. We approached and found it to be a great wooden cross made fast to the rock with tones. A piece of the bottom of a cask had been fastened to it upon which letters had been cut, but we could not read the writing. We could only wonder what ships had passed that way, and who could have set it up. Nor did we know whether this was the harbour where we were supposed to meet our companions.
We continued on our way to seek out the land, leaving the cross behind us, but taking the bottom of the cask with us, and one of our company sat down and studied the writing on the cask and after a time it became clear. The writing was in the Spanish language and read: Si vehn por ventura ecky la armada de su majestet, tiren uhn Tiro ay averan recado,25 which is to say: "If perchance any of his Majesty's ships should come to this place let them fire a shot and they will be further advised." Thereupon we sailed back in haste to the cross and discharged a falconet and then returned and continued our voyage inland.
As we advanced we saw five canoes full of savages which came upon us as fast as they could row and we made ready our guns. When they drew near to us we discerned in one of the boats a man who wore clothes
50
and had a beard. He stood up in front of the canoe and we saw that he was a Christian. We called to him to bring the canoe close to us so that we might converse with him.
When he came near we enquired of him in what country we were, and he replied: "You are in the harbour called in the savage tongue Schirmirein, but you should know that it is also named St. Catherine's Harbour, for it was so called when it was first discovered." Thereupon we rejoiced greatly, for this was the harbour which we were seeking, and we were there and knew it not, and had even reached it on St. Catherine's Day. See, therefore, how God stretches forth his arm to help and save those that call upon him in their distress.
This man then enquired whence we came, and we told him that we belonged to the King's ships from Spain, and intended to go on to Rio de Plata, also that there were other ships voyaging thither and we hoped, if God willed, that they would shortly arrive at this place where we had expected to meet with them. He was much pleased at what we told him, and gave thanks to God, for he had been sent by sea three years previously from a place called La Soncion26 in the province of Rio de Plata, which belongs to Spain, 300 miles away, with instructions to endeavour to persuade the people called Carios (who were friendly to Spain) to plant mandioca roots, so that ships arriving there could, if need arose, obtain provisions from the savages. These had been the orders given to him by the captain who had returned to Spain with the latest tidings. This captain was called Captain Salaser, and he had come back again with the next ship. We now returned with the man who had come out to us to the place where he lived among the savages, who showed us such hospitality as they could.
51
HANS STADEN
CHAPTER X
In what manner I was dispatched with a boat full of savages to our ship.
OUR captain now asked the man whom we had found with the savages to send a canoe with one of us to our ship, so that it might follow us.
Then the captain sent me with the savages to the ship, and as we had been three nights absent the people in the ship knew nothing of what had befallen us. Accordingly, when I arrived within gunshot distance of the ship, they set up a great cry and prepared their weapons for defence, and would not suffer me to approach nearer, but called out, asking what had happened, where the others were, and how it came about that I was alone in a canoe with the savages. But I was silent and did not reply, for the captain had ordered me to look sad in order to see what the ship's crew would do.
As I did not reply they cried out to each other that there was something amiss, that the others must be dead, and that the savages had returned with me, intending with the help of their fellows to take the ship, and they made ready to fire. They called to me again, whereat I commenced to laugh, and cried out: "Be comforted. I bring good news, let me approach to make my report." Then I told them how matters had fallen out and they rejoiced greatly, and the savages departed to their homes. We then drew near with the ship to the place where the savages dwelt and anchored, and lay there waiting for the other ships which we had lost in the storm, and which were expected to arrive.
The settlement in which the savages lived was called Acuttia,27 and the man whom we found there was called Juan Ferdinando, a Biscayan from Bilba
A SHIP IS LOST
(Bilbao). The savages were called Carios, and they brought us much game and fish, for which we gave them fish-hooks.
CHAPTER XI
How the other ship arrived, in which was the chief pilot, and which we
had lost at sea.
AFTER we had been there for about three weeks the ship arrived with the chief pilot, but the third ship had been lost and was never heard of again.
We at once prepared to continue our voyage, having collected victuals for six months, for we had a voyage of some 300 miles before us, but one day, when every-thing was ready, the big ship foundered in the harbour and we could not proceed.
We lay there for two years in the wilderness, in great peril and so straitened for food that we were forced to eat lizards and field-rats and other strange food, as well as shell-fish hanging to the rocks and creatures of that kind. Most of the savages who had at first supplied us with food departed to other villages when they had obtained sufficient wares from us, and we were unable to rely on them for our support. It seemed as if we must remain there and die.
At last we resolved that the greater number of our company should travel overland to the place called Sumption (Asuncion), distant some 300 miles from the spot where we lay, while the rest should sail with the one remaining ship. The captain selected those who were to travel with him by water, and those who were to make the land journey and cross the wilderness were provided with food and set off with some savages to guide them. But many died of hunger, and only a remnant arrived, as we afterwards ascertained. As for the rest of us, the ship was too small to carry the whole company.
HANS STADEN
CHAPTER XII
How we took counsel and sailed for the Portuguese colony of Sancte Vincente, where we intended to freight another ship with which to complete our voyage; how we suffered shipwreck in a Storm, not knowing how far we were from Sancte Vincente.
IT so happened that the Portuguese had taken possession of an island adjoining the mainland called Sancte Vincente, which is known in the savage tongue as Urbioneme. This province lies some seventy miles from the place to which we had come, and our resolution was to sail there and find out if we could freight a ship from the Portuguese in which to continue the voyage to Rio de Plata, since a ship such as we had was too small to carry all of us. Certain of the company sailed accordingly for the island of Sancte Vincente with the Captain Salaser whom I have already named, but no one of us had ever been there before except a man called Roman who thought he could find the place again.
We sailed from the harbour, which is called Inbiassape, situate in thirty-four degrees south of the equinoctial line, and in about two days we arrived at an island known as Insula de Alkatrases, about forty miles away, where we had to anchor since the wind was contrary. This island28 abounds with the sea-birds called Alkatrases, which were easy to catch, it being nesting time. We landed in search of fresh water and found some remains of old huts and fragments of earthenware left by the former inhabitants, and came also upon a small fountain in a rock. We killed a number of the birds and took them and the eggs to the ship, where we cooked both birds and eggs. After we had eaten them a great storm arose from the south, and we began to be afraid that our anchors would give way and that the wind would drive us on to the rocks.
THE SHIPWRECK
It was now evening and we agreed to try and reach the harbour of Caninee.29 But before we could reach it night fell and we were driven in great peril from the land. The waves beat against the ship until it seemed that we must be dashed to pieces, for we were near to a cape where the waves raged more furiously than out at sea.
During the night we were driven so far from land that by morning we had lost sight of it, but shortly afterwards we saw land again, although the storm was so violent that we could scarcely keep afloat. Then the man who knew the land told us that we were near Sancte Vincente, and we strove to reach it, but the fog and clouds obscured the coast: and it was impossible to recognize it. We were forced to throw overboard everything that was weighty, and thus we lightened the ship because of the great waves. So in constant fear of death, we laboured on, hoping to reach the harbour in which was the Portuguese settlement. But our efforts were in vain.
When the clouds lifted a little and we could again see the land the man Roman was persuaded that the harbour was now before us, and that if we steered for a certain rock we should find the harbour behind it. We sailed on, but as we approached we saw nought but death before our eyes, since there was no harbour and we were driving before the wind straight for the shore and were in imminent danger of shipwreck. The waves beat upon the rocks until it was a horror to see them, but we could only pray to God for pity and help, and take such measures as are fitting to sailors about to be shipwrecked.
As we drew near to land the waves swept us so far aloft that we seemed to be looking down upon them from a high wall. Then with one blow the ship was broken in pieces. Some leapt into the sea and swam ashore, others clung to fragments of the
HANS STADEN
ship, and so with God's help, one and all, we came alive to land. But it was raining and blowing hard, and we were indeed devoid of hope.
CHAPTER XIII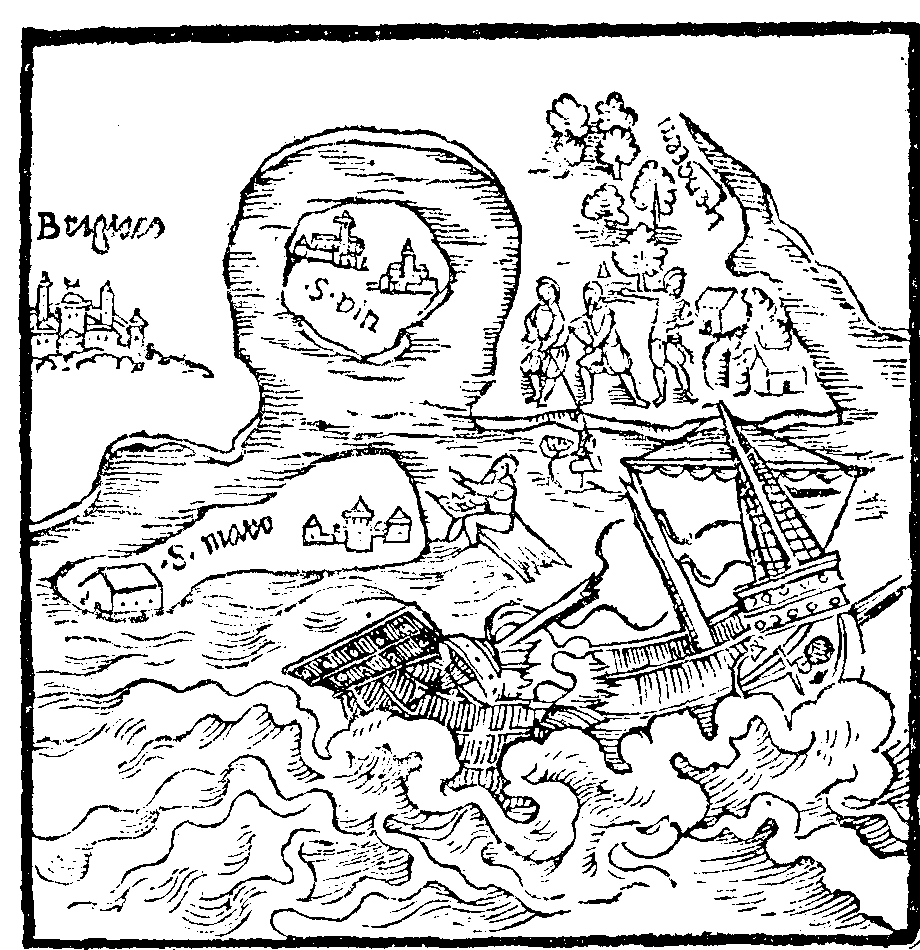 How we learnt in what savage country we had been shipwrecked.
WHEN we had come safely to land we gave thanks to God who had preserved us alive, but we were much cast down since we knew not in what country we were. The man called Roman had no knowledge of it, and could not tell us whether we were close to the island of Sancte Vincente or not, nor whether the place was inhabited by savages who might seek to injure us. But one of our company, a Frenchman named Claudio, who was running to and fro on the
56
SAN VINCENTE
shore to warm himself, espied a village behind a wood, the houses of which appeared to be built after the manner of Christians, and he ran there and found that it was a settlement inhabited by Portuguese, and that it was called Itenge Ehm,30 and was situate two miles from Sancte Vincente. He told them how we had been shipwrecked and were almost frozen and knew not what to do. Then they came running towards us and carried us to their houses, where they clothed us, and we remained some days with them until we had recovered ourselves.
Thence we travelled overland to Sancte Vincente where the Portuguese received us kindly and entertained us for a time, after which each one of us began to work to maintain himself. Then the commander, seeing that we had lost all our ships, sent a Portuguese boat to fetch our companions who had remained behind at Byasape, and in due course they rejoined us.
CHAPTER XIV
The situation of Sancte Vincente31
SANCTE VINCENTE is an island and lies close to the mainland. In it are two settlements: the one called in the Portuguese tongue Sancte Vincente, and in the savage tongue Orbioneme: the second settlement is situated some two miles away and is called Uwawa Supe.32 There are also certain houses in the island called Ingenio33 where sugar is made.
The Portuguese live in the island and are friendly with a Brazilian tribe called Tuppin Ikin.34 The country of the Tuppin Ikins reaches for eighty miles inland and for about forty miles along the coast.
This tribe is encompassed to the north and south by hostile tribes. Those to the south are called Carios;
HANS STADEN
those to the north are named Tuppin Imba. They are also known by their foes as Tawaijar, which is to say enemy. The Portuguese have suffered much injury from these people, and even today they go in fear of them.
CHAPTER XV
How the place is named in which the enemy is chiefly gathered together,
and how it is situated.
FIVE miles from Sancte Vincente is a place called Brikioka.35 Here the people are in touch with the savages, their enemies, who sail thither between an island called Sancto Maro36 and the mainland. At this point a number of mameluke37 brethren were stationed to protect the passage. Their father was a Portuguese and their mother was a Brazilian woman, and they were skilful and experienced both in Christian and savage speech and customs. The eldest among them was called Johan de Praga, the second Diego de Praga, the third Domingus de Praga, the fourth Francisco de Praga, the fifth Andreas de Praga, and the father was known as Diego de Praga.
About two years before I arrived these five brethren had undertaken, in conjunction with the friendly savages, to build a fort in the native fashion as a bulwark against the enemy, and this they had accomplished. Certain Portuguese had joined them and dwelt there, as it was a fruitful country, but their enemies, the Tuppin Imba, had discovered this and had prepared themselves for war in their own country some twenty-five miles away. One night they arrived with seventy canoes and had attacked the settlement, as their custom was, an hour before daybreak, forcing the mamelukes and Portuguese into a hut which they had built of earth where they defended themselves.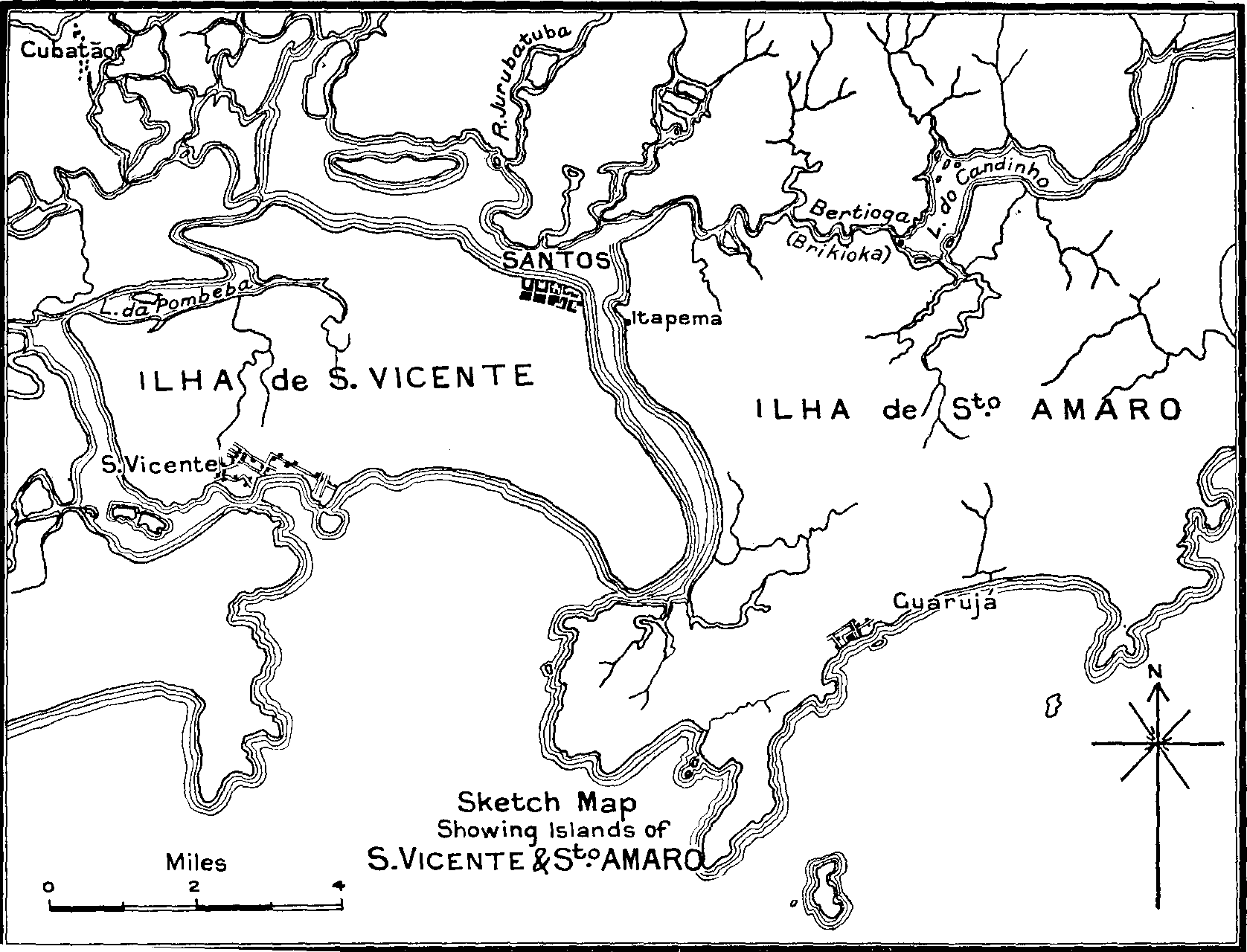 [face p. 58           
THE FORT AT SANTO AMARO
The other savages had also defended themselves stoutly in their huts, so that numbers of the enemy were killed. In the end, however, the enemy prevailed and burnt the settlement of Brikioka and captured all the savages, but the Christians, numbering about eight, and the mamelukes remained safe in their house, for God was their protector. As for the captives they were forthwith hacked in pieces and divided up, after which the attackers returned to their own country.
CHAPTER XVI
In what manner the Portuguese rebuilt Brikioka, and later constructed
a fort in the island of Sancte Maro.
IT did not seem wise to the commanders and the community to leave the place, but they decided to rebuild it more strongly, since at this point the whole country could be defended. And they did so.
When the enemy observed that the settlement of Brikioka was too strong to be attacked, they passed at night close to the place by water and captured whomsoever they could in the neighbourhood around Sancte Vincente. For those that dwelt inland imagined that they were in no danger, since the settlement close by was so strongly fortified, and for this they paid the penalty. Then the dwellers there commenced to build a fort by the water in the Island of Sancte Maro, which lies immediately opposite Brikioka, and to furnish it with guns and men, with intent to prevent the passage of the savages. They began to set up the fort on the island, but it remained unfinished since, as I was told, no Portuguese gunner would stay there. I was then at that place looking about me, and when the people learnt that I was a German with some knowledge of guns, they desired me to take duty
HANS STADEN
in the fort and prepare for the enemy, offering to find me companions and to pay me a good wage. They promised also if I would do this that I should receive favours from their King, who was always pleased to show his pleasure to those who offered help and counsel in the New World.
I then made an agreement with them to serve four months in the fort, by which time an officer was due to arrive from the King with ships and material for the building of a done blockhouse which would be much stronger. And so it fell out. During most of the time I was in the blockhouse with three others and some guns, but we were in great danger from the savages, for the fort was not strong, and we had to keep perpetual watch lest the savages should slip past in the darkness, which they tried to do on several occasions; but God was with us and showed them to us in the night watches.
After some months the King's officer arrived, for the people had petitioned the King on account of the pride and insolence of the enemy thereabouts, and had reported how fine a country it was and that it ought not to be abandoned. Therefore the officer arrived, who was called Tome de Susse,38 with intent to improve matters and to survey the country and inspect those places which the inhabitants desired to strengthen.
Then the people made report to the officer concerning my services and told him how I had stationed myself in the fort where no Portuguese would remain, since it was so badly defended. The officer was much gratified and promised to report the matter to the King when God brought him safely home to Portugal, and that I should be rewarded.
My period of service, namely four months, being now finished, I desired my release, but the officer and the people begged me to remain for a further period in their service. I consented and agreed to serve for two years more on condition that when this time was
60
THE DEFENCE OF THE FORT
at an end they would then without hindrance set me on the first ship for Portugal in order to obtain my reward. Then the officer gave me the commission, which it is customary to bestow on the King's gunners who demand it. The bulwark was constructed of stone and fortified with a number of cannon, and I was ordered to take charge of the place and keep a careful watch.
CHAPTER XVII
How and for what reasons it was necessary to keep watch for the enemy
at one season of the year more than at other times.
IT was necessary for us to keep particular watch at two seasons of the year, especially when the savages go forth to make war on their enemies. Of these two seasons the one occurred in the month of November, when certain fruit which they call in their language Abbati became ripe, from which fruit the savages make a drink called Kaa Wy. At the same time they gather a root called mandioca which they mix with the fruit when it is ripe to make the drink. This drink is made ready against their return from war so that they can enjoy it when they eat their enemies, and they make merry for a whole year when the time of the Abbati arrives. We had also to look for attacks in the month of August when they go out to catch fish. The fish at this season ascend into the fresh water which flows into the sea, in order to deposit their spawn. The name of this fish in the savage tongue is Bratti,39 but the Spaniards call them Lysses. At this season the savages are accustomed to sally forth to make war, so that they may be well supplied with food. They catch the fish in small nets and shoot them also with arrows. Then they take them home and roast them, and make a meal from them which they call Pira Kui.
61
HANS STADEN
CHAPTER XVIII
My capture by the ravager and how it occurred.
I HAD a savage man for a slave of the tribe called Carios who caught game for me, and it was my custom to make expeditions with him into the forest.
It fell out after a time that a Spaniard from Sacte Vincente came to me to the island of Sancte Maro, a distance of about five miles, and was with me in the fort where I lived, and with him came also a German called Heliodorus Hessus,40 son of the deceased Eobanus Hessus. He had been stationed in the island of Sancte Vincente in an Ingenio where they make sugar. This Ingenio belonged to a Genoese named Josepe Ornio,41 and Heliodorus was his clerk and manager. (Ingenio is used to designate the houses where sugar is made.) I had had dealings with this Heliodorus previously, for when I was shipwrecked with the Spaniards I found him in the Island of Sandie Vincente and he showed me much kindness. He came to see how I was situated, for he had heard perchance that I was sick.
The day previously I had sent my slave into the forest to hunt for game, intending to go on the following day to fetch it so that we might have food, for in that country there is little to be had except what comes out of the wilderness.
As I was going through the forest I heard loud yells on either side of me, such as savages are accustomed to utter, and immediately a company of savages came running towards me, surrounding me on every side and shooting at me with their bows and arrows. Then I cried out: "Now may God preserve my soul." Scarcely had I uttered the words when they threw me to the ground and shot and stabbed at me. God be praised they only wounded me in the leg, but they
62
HANS IS CAPTURED
tore my clothes from my body, one the jerkin, another the hat, a third the shirt, and so forth. Then they commenced to quarrel over me. One said he was the first to overtake me, another protested that it was he that caught me, while the rest smote me with their bows. At last two of them seized me and lifted me up, naked as I was, and taking me by the arms, some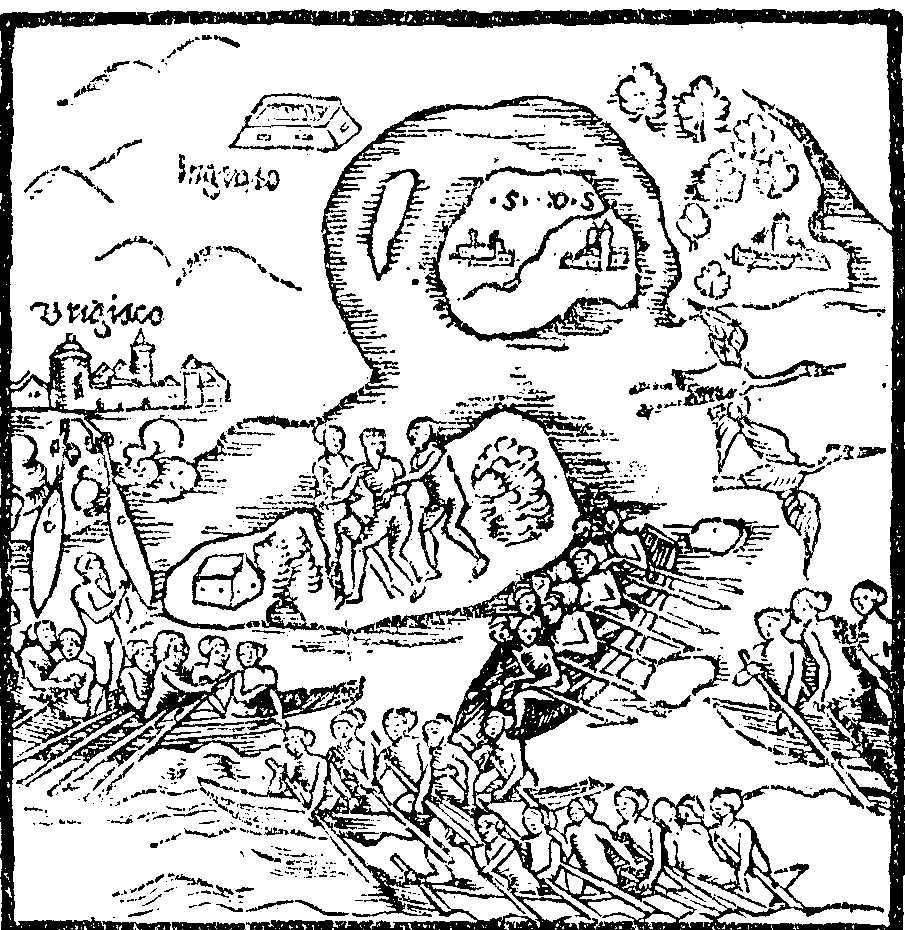 running in front and some behind, they carried me along with them through the forest at a great pace towards the sea where they had their canoes. As we approached the sea I saw the canoes about a stone's-throw away, which they had dragged out of the water and hidden behind the shrubs, and with the canoes were great multitudes of savages, all decked out with feathers according to their custom. When they saw me they rushed towards me, biting their arms and threatening me, and making gestures as if they would
63
HANS STADEN
eat me. Then a king approached me carrying the club with which they kill their captives, who spoke saying that having captured me from the Perot, that is to say the Portuguese, they would now take vengeance on me for the death of their friends, and so carrying me to the canoes they beat me with their fits. Then they made haste to launch their canoes, for they feared that an alarm might be raised at Brikioka, as indeed was the case.
Before launching the canoes they bound my hands together, but since they were not all from the same place and no one wanted to go home empty-handed, they began to dispute with my two captors, saying that they had all been just as near to me when I was taken, and each one demanding a piece of me and clamouring to have me killed on the spot.
Then I stood and prayed, expecting every moment to be struck down. But at last the king, who desired to keep me, gave orders to carry me back alive so that their women might see me and make merry with me. For they intended to kill me "Kawewi Pepicke": that is, to prepare a drink and gather together for a feast at which they would eat me. At these words they desisted, but they bound four ropes round my neck, and I was forced to climb into a canoe, while they made fat the ends of the ropes to the boats and then pushed off and commenced the homeward journey.
CHAPTER XIX
How my people came out when the savages were carrying me away, in-
tending to recapture me, and how they fought with the savages.
THERE is another island close by the one where I was captured in which water-birds nest which are called Uwara,42 and they have red feathers. The savages
64
THE ATTEMPTED RECAPTURE
asked me whether their enemies the Tuppin Ikins had been there that year to take the birds during the nesting season. I told them that the Tuppin Ikins had been there, but they proposed to visit the island to see for themselves if this was so, for they value the feathers of these birds exceedingly since all their adornment depends upon them. It is a peculiarity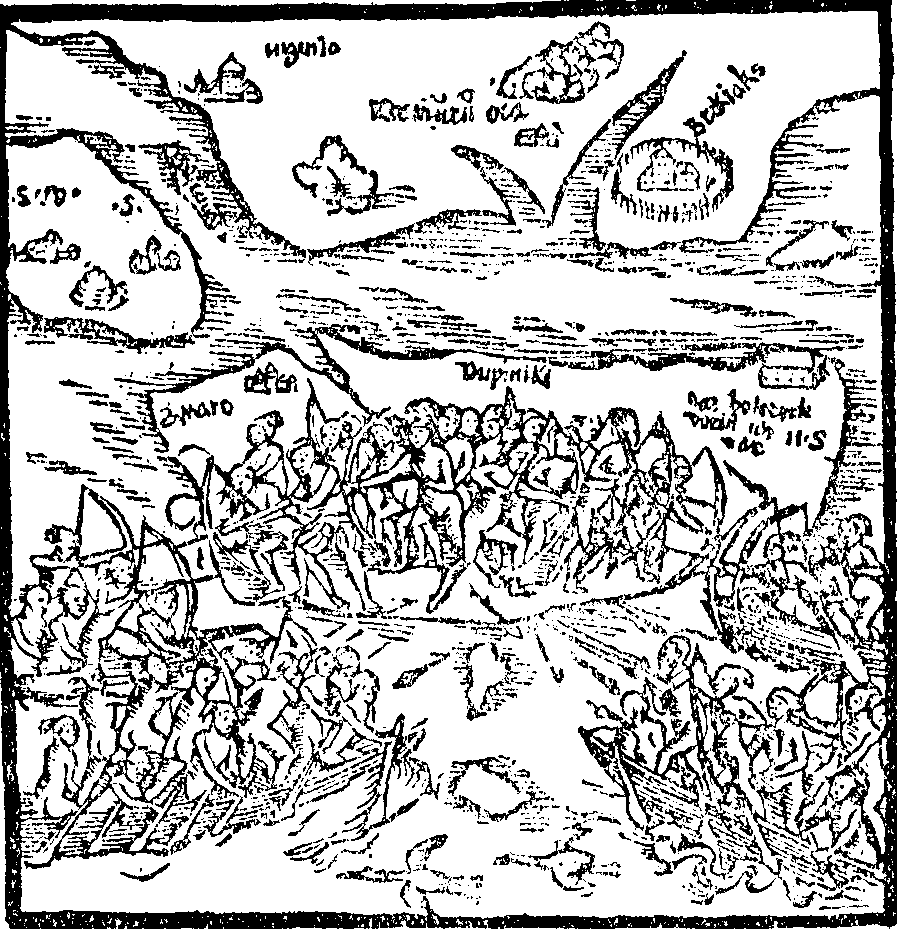 of these birds that when they are young the feathers are a whitish-grey. They then become dark grey and so they fly for about a year, after which the feathers turn red, as red as paint. The savages made for this island, hoping to take the birds, but when they were a distance of some two gun-shots from the place where they had left their canoes, they looked back and saw behind them a number of Tuppin Ikin savages with certain of the Portuguese who had set out to recapture me. For a slave who was with me had escaped when
65 F
HANS STADEN
I was taken and had raised an alarm. They cried out to my captors that unless they were cowards they would turn and fight. My captors turned about and those on the land assailed us with blow-pipes and arrows while we replied. My captors then unbound my hands leaving the cord still fastened to my neck, and as the king had a gun and a little powder, which a Frenchman had given him in exchange for some Brazilian wood, I was forced to shoot with it towards the land.
After both parties had skirmished for a time my captors, fearing that those on shore might be reinforced with canoes and might give chase, made off with three casualties and passed about a gun-shot distance from the fort at Brikioka where I had been stationed, and as we passed I had to stand up in the canoe so that my companions might see me. They fired two large guns from the fort, but the shot fell short.
In the meantime some canoes had set out from Brikioka in pursuit, hoping to overtake us, but my captors rowed too fast, and when my friends saw that they could do nothing they returned to Brikioka.
CHAPTER XX
In what manner my captors returned to their own country.
WHEN we were about seven miles from Brikioka towards the country of the savages it was by the sun about in the afternoon of the same day on which I was captured.
My captors passed by an island and ran the canoes ashore, intending to spend the night there, and they carried me from the canoe to the land. I could scarcely see, for I had been wounded in the face, nor could I walk on account of the wounds in my leg, but could only lie down on the sand.
66
HANS IS CARRIED OFF
Then they stood round me and boasted that they would eat me.
So in mighty fear and terror I bethought me of matters which I had never dwelt upon before, and considered with myself how dark is the vale of sorrows in which we have our being. Then, weeping, I began in the bitterness of my heart to sing the Psalm: "Out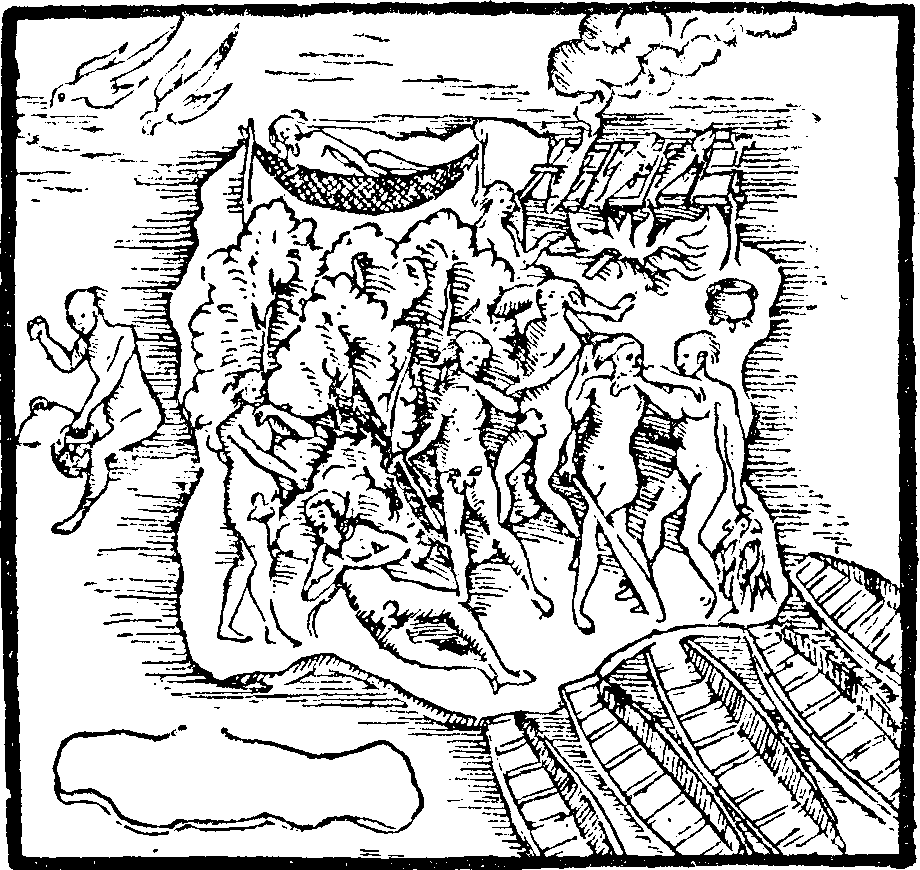 of the depths have I cried unto thee." Whereupon the savages rejoiced and said: "See how he cries: now is he sorrowful indeed."
Then they considered and decided that the island was not a suitable place in which to spend the night, and they returned to the mainland where there were huts which they had erected previously, and it was night when we came there. The savages beached the canoes and lit a fire and afterwards took me to it. There I had to sleep in a net" which they call in their tongue Inni. These nets are their beds and they make
67
HANS STADEN
them fast to two posts above the ground, or if they are in the forest they tie them to two trees. So I lay there with the cord which I had about my neck tied high up in a tree, and they lay round about me all night and mocked me saying in their speech: Schere inbau ende, which is to say: "You are my bound beast."
Before daybreak we were once more on our way and rowed all day, so that by Vespers we were some two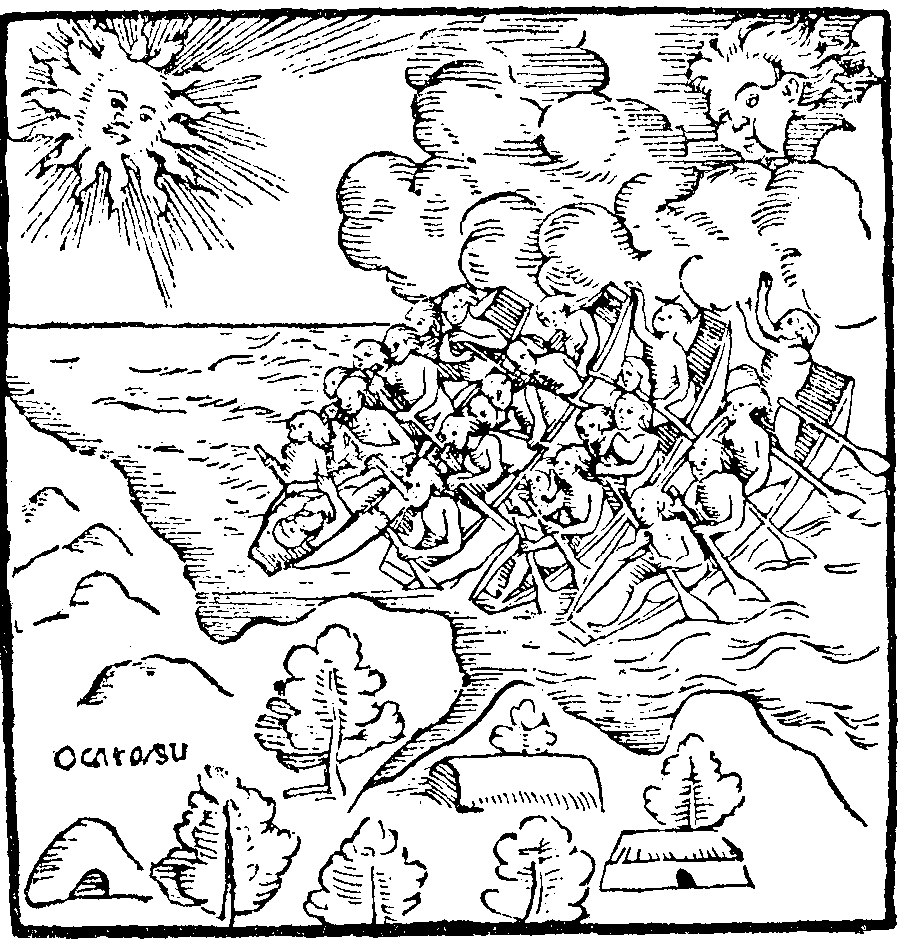 miles from the place where they intended to spend the night. Then great black clouds arose behind me which were terrible to see, and the savages laboured at the oars, striving to reach land and to escape the wind and darkness. But when they saw that their efforts were in vain they said to me: Ne mungitta dee Tuppan do Quabe, amanasu y an dee Imme Ranni me sisse, which is to say: "Speak with your God that we may escape the wind and rain." I kept silence, but
68
A PRAYER FOR GOOD WEATHER
prayed in my heart as the savages required of me: "O almighty God, Lord of heaven and earth, who from the beginning hast succoured those that call upon thee, now among the heathen show thy mercy to me that I may know that thou art with me, and establish thee among these savages who know thee not, that they may see that thou hast heard my prayer."
I lay bound in the canoe and could not turn myself to regard the sky, but the savages looked steadfastly behind them and commenced to say: Oqua moa amanasu, which means: "The great storm is departing." Then I raised myself as best I could and looked back and saw that the clouds were passing, and I praised God.
When we came to land they did with me as before and bound me to a tree, and lay about me all night telling me that we were approaching their country where we should arrive on the morrow about evening, at which I rejoiced not at all.
CHAPTER XXI
How they dealt with me on the day on which they brought me to their
dwellings.
ON the same day about Vesper time (reckoning by the sun) we came in sight of their dwellings after we had been journeying for three days. The place to which I had come was thirty miles distant from Brikioka where I had been captured.
When we were near the dwellings I saw that the place was a small village with seven huts, and it was called Uwattibi44 (Ubatuba). We landed on a beach close by the sea, and there were the women folk in a plantation of mandioca roots. They were going up and down gathering roots, and I was forced to call
69
out to them and say: A junesche been ermi vramme, which means: "I your food have come."
As we landed, all the women, young and old, came running out of the huts, which were built on a hill, to tare at me. The men went into their huts with their bows and arrows, leaving me to the pleasure of the women who gathered round and went along with me, some in front and some behind, dancing and singing the songs they are wont to sing to their own people when they are about to eat them.
They then carried me to a kind of fort outside the huts called Ywara, which they defend against their enemies by means of great rails made like a garden fence. When I entered this enclosure the women fell upon me and beat me with their fins, plucking at my beard and crying out in their speech: Sehe innamme pepikeae, which is to say: "With this blow I avenge me of my friend, that one who was slain by your people."
After this they took me into the huts where I had to lie in a hammock while the women surrounded me and beat me and pulled at me on all sides, mocking me and offering to eat me. Meanwhile the men had assembled in a hut by themselves, drinking a drink which is known as Kawi, and having their gods, called Tammerka,45 about them, to whom they sang praises, since these gods, they said, had foretold my capture. I could hear this singing, but for half an hour none of the men came near me, and I was left with the women and children.
CHAPTER XXII
How my two captors came to me and told me that they had presented me to one of their friends, who would keep me and slay me when I was to be eaten.
AT this time I knew less of their customs than I knew later, and I thought to myself: now they are preparing to kill me. In a little time the two men who had captured me, namely Jeppipo Wasu and his brother, Alkindar Miri, came near and told me that they had presented me in friendship to their father's brother, Ipperu Wasu, who would keep me until I was ready to be eaten, when he would kill me and thus acquire a new name.
This Ipperu Wasu had captured a slave a year before, and had presented him in friendship to Alkindar Miri, who had slain him and gained a new name. This Alkindar Miri had then promised to present Ipperu Wasu with the first prisoner he caught. And I was that prisoner.
My two captors told me further that the women would lead me out Aprasse. This word I did not then understand, but it signifies a dance. Thus was I dragged from the huts by the rope which was still about my neck to the dancing place. All the women came running from the seven huts, and seized me while the men withdrew, some by the arms, some by the rope about my throat, which they pulled so tight that I could hardly breathe. So they carried me with them, for what purpose I knew not, and I could think only of our Saviour Jesus Christ, and of his innocent sufferings at the hands of the Jews,[45a] whereat I was comforted and grew more patient. They brought me to the hut of their king, who was called Vratinge Wasu, which means the great white bird. In front of this hut was a heap of fresh earth,
and they brought me to it and sat me there, holding me fast. I could not but think that they would slay me forthwith and began to look about me for the club Iwera Pemme46 which they use to kill their prisoners, and I asked whether I was now to die, but they told me "not yet." Upon this a woman approached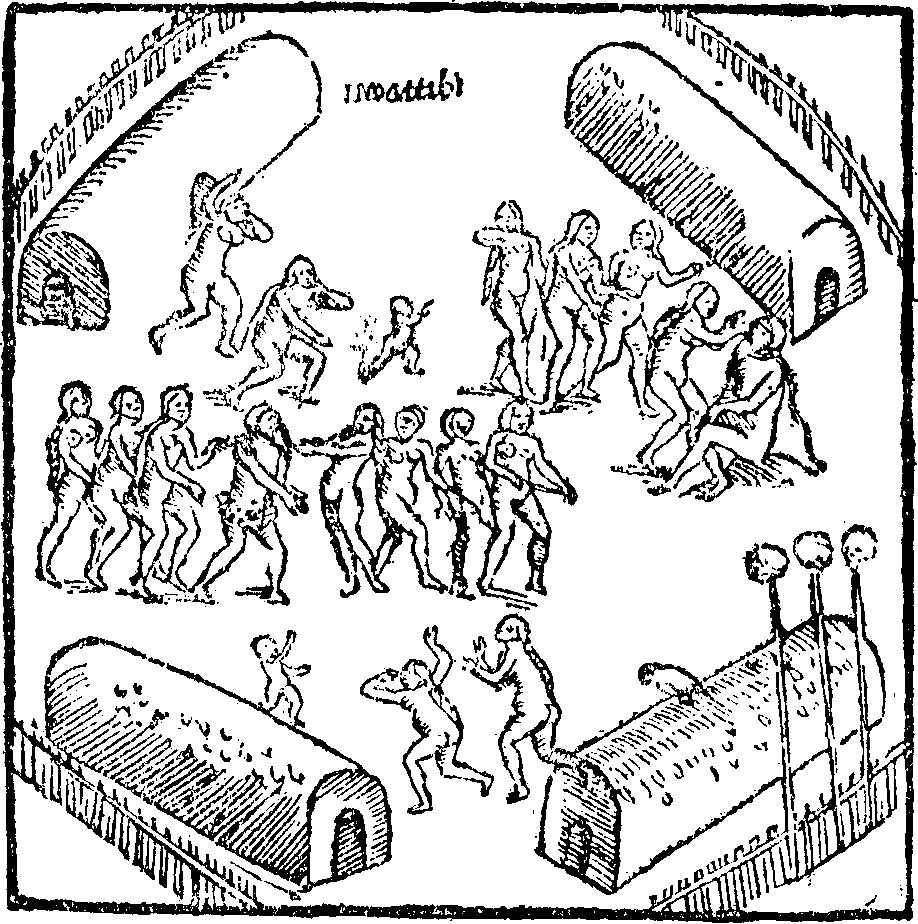 carrying a piece of crystal fastened to a kind of ring and with it she scraped off my eyebrows and tried to scrape off my beard also, but I resisted, saying that I would die with my beard. Then they answered that they were not ready to kill me yet and left me my beard. But a few days later they cut it off with some scissors which the Frenchmen had given them.
CHAPTER XXIII
How they danced with me before the huts in which their idols Tammerka
had been set up.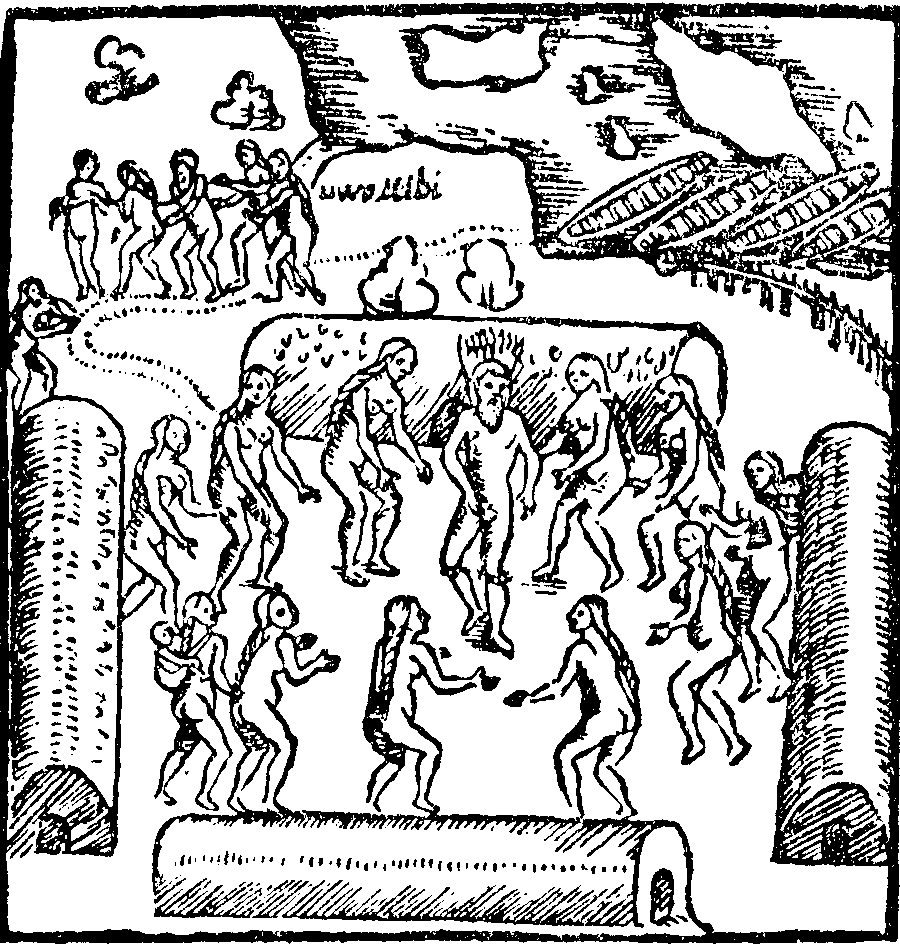 AFTER this they carried me from the place where they had cut off my eyebrows to the huts where they kept their idols, Tammerka. Here they made a ring round me, I being with two women in the centre, and tied my leg with rings of objects which rattled. They bound me also with sheaves of feathers arranged in a square, which they fastened behind at my neck so that they stood up above my head. This ornament is called in their language Arasoya. Then the women commenced to sing all together, and I had to keep time with the rattles on my leg by stamping as they sang.47 But my wounded leg was so painful that I could hardly stand upright, for the wound had not been dressed.
73
HANS STADEN
CHAPTER XXIV
How, after they had danced, they brought me home to Ipperu Wasu who
was to kill me.
WHEN the dance was ended I was handed over to Ipperu Wasu who guarded me closely. He told me that I had some time to live. And the people brought the idols from the huts and set them up around me, saying that these had prophesied that they would capture a Portuguese. Then I replied that the idols were powerless and could not speak, and that even so they lied, since I was no Portuguese, but a kinsman and friend to the French, and that my native land was called Allemania. They made answer that it was I who lied, for if I was truly the Frenchmen's friend, how came it that I was among the Portuguese? For they knew well that the French were as much the enemies of the Portuguese as they were,48 and that they came every year in their boats, bringing knives, axes, mirrors, combs and scissors, and taking in exchange Brazilian wood, cotton, and other goods, such as feathers and pepper. These men were their good friends which the Portuguese were not. For the Portuguese, when they came to the country and settled there, had made friends with their enemies. Moreover, the Portuguese had come to their country, desiring to trade with them, and when they had gone down in all friendship and entered the ships, as they are to this day accustomed to do with the Frenchmen, the Portuguese had waited until sufficient numbers were on board, and had then seized and bound them, carrying them away to their enemies who had killed and eaten them. Others the Portuguese had slain with their guns, committing also many further acts of aggression, and even joining with their enemies and waging frequent war, with intent to capture them.
74
TAKEN FOR A PORTUGUESE
CHAPTER XXV
How my captors made angry complaint that the Portuguese had slain
their father, which deed they desired to avenge on me.
THE savages said, moreover, that the Portuguese had wounded the father of the two brothers, my captors, and had shot off one of his arms so that he died of his wounds, and that they intended to take vengeance on me for their father's death. To which I made answer that they should not visit this upon me, since I was no Portuguese, but had arrived some time since with the Castilians, and had been shipwrecked among the Portuguese, for which reason I had remained with them.
Now there was a young man of their tribe who had been a slave among the Portuguese, for the savages among whom the Portuguese dwell had waged war on the Tuppin Imbas and had captured a whole village, killing and eating the grown men. But the young ones had been carried off and bartered to the Portuguese for goods, and among them was this young man, who had passed into the hands of a master in the neighbourhood of Brikioka named Antonio Agudin of Galicia. My captors had taken this slave some three months before I fell into their hands, but as he belonged to their tribe they had not killed him. This young man knew me well and my captors enquired of him what manner of man I was. He told them that it was true that a ship had been cast away, and that the people in it were called Castilians, and that they were friends of the Portuguese. He said also that I was among them, but knew nothing more of me.
When I heard this and understood that there were Frenchmen among them who came there in their ships, I persisted in my story that I was a kinsman and friend to the French, and that they should leave me alive
75
HANS STADEN
until the Frenchmen arrived and recognized me. And they kept me in close confinement, for there were certain Frenchmen in the district who had been left there to collect pepper.
CHAPTER XXVI
How a Frenchman who had been left among the savages came to see
me and bade them eat me, saying that I was truly a Portuguese.
THERE was a Frenchman four miles distant from the village in which I was, and when he heard news of me he came and entered one of the huts opposite to the one in which I was kept. Then the savages came running to me and said: " Here is a Frenchman. Now we shall see whether you are in truth a Frenchman or not." At this I rejoiced greatly, for I told myself that he was at least a Christian and would do his best for me.
Then they took me to him, naked as I was, and I found him to be a youth known to the savages by the name Karwattuware. He commenced to speak to me in French, which I could not well understand, and the savages stood round about and listened. Then, when I was unable to reply to him, he spoke to the savages in their own tongue and said: "Kill him and eat him, the good-for-nothing, for he is indeed a Portuguese, your enemy and mine." This I understood, and I begged him for the love of God to tell them not to eat me, but he replied only: "They will certainly eat you." Whereupon I bethought me of the words of the Prophet Jeremy (chapter xvii) when he said: "Cursed be the man that trusteth in man," and I departed from them with a heavy heart. I had on my shoulders a linen cloth which the savages had given me, although I know not where they can have obtained it. This I tore off and flung it at the French-
76
HANS HAS TOOTHACHE
man's feet, saying to myself (for the sun had burnt me severely) that it was useless to preserve my flesh for others if I was to die. And they carried me back to the hut which was my prison where I retched myself in my hammock. God alone knows the misery that I endured, and weeping I commenced to sing the verse: "Let us now beseech the Holy Ghost to save and guard us when death approaches and we pass from sorrows into peace. Kyrioleys." But the savages said only: "He is indeed a true Portuguese. Now he cries. Truly he is afraid to die."
The Frenchman remained for two days in the huts, and on the third day he departed. The savages had resolved to make their preparations and to kill me on the day when everything should be ready. In the meantime they kept me very closely and mocked me continuously, both young and old.
CHAPTER XXV I I
How I suffered greatly from toothache.
IT fell out during my misery, just as men say, that troubles never come singly, for one of my teeth commenced to ache so violently that by reason of the pain I could not eat and lost flesh. Whereat my master enquired of me why I ate so little, and I replied that I had toothache. Then he came with an instrument made of wood, and wanted to pull out the tooth. I told him that it had ceased to trouble me, but nevertheless he tried to pull it out with force, and I resisted so vigorously that he gave up the attempt. Then he threatened that if I did not eat and grow fat again they would kill me before the appointed day. God knows how earnestly, from my heart, I desired, if it was his will, to die in peace without the savages perceiving it and before they could work their will on me.
77
HANS STADEN
CHAPTER XXVIII
In what manner they brought me to their chief ruler, king Konyan
Bebe, and how they dealt with me there.
A FEW days later they took me to another village called Arirab, the dwelling place of their chief king who was called Konyan Bebe. Here a great company had assembled, with much rejoicing in the native manner, for the people desired to see me, and he had ordered me to be brought there on that day.
As I arrived at the huts I heard a great noise, with singing and blowing of trumpets, and in front of the huts some fifteen heads had been set up on posts. These were the heads of their enemies, called Markayas,49 whom they had eaten, and as they took me past them they told me what they were. Then I was afraid, for I could not but consider that they might treat me in the same way. When we entered the huts one of my keepers went forward and spoke, with cruel words, so that all might hear, saying: "Behold I bring you a Portuguese slave," as if it were a fine thing for him to have his adversary in his power, and speaking much else besides according to their custom. He then took me to the place where the king sat, and he and his companions drank together of the drink called Kawawy until they were drunken, and they all regarded me with evil looks, saying: "Is not our enemy now come to us?" And I replied: "I am indeed come to you, but I am not your enemy." Then they gave me to drink.
Now I had heard much of this king who was called Konyan Bebe, how that he was a mighty king and a great tyrant and eater of men's flesh, and when I saw the one among them who looked like a king I went forward and spoke to him, as if I had been of his people. And I said: "Are you king Konyan Bebe, do you
78
KING KONYAN BEBE
still live?" He made answer: "Yes, I am still alive," and I said: "I have heard much of you, how that you are a very mighty man." Upon this he rose up and began to rut about before me with great pomp. He had a round green one thrust through his lips (as their custom is).50 These people make also a kind of pater noster of sea-shells, which they use for ornament. This king wore six ropes of them hanging at his neck whereby I saw that he was a great personage.
The king then sat down again and began to question me as to what his enemies the Tuppin Ikins and the Portuguese were about to do; and why I had tried to shoot his people at Brikioka (for he had learnt that I was employed as a gunner against them). I made answer that the Portuguese had placed me there and I had to obey orders. But he said that I was also a Portuguese, for the Frenchman who had seen me, whom he called his son, had told him that I could not speak with him, and that I was a true Portuguese. Whereupon I told him that I had been so long absent from my country that I had forgotten my native tongue. Then said he: "I have already helped to catch and eat five Portuguese who said they were Frenchmen, but they all lied."
Then, indeed, I abandoned all hope of life and commended myself to God, for I saw clearly that I must die. But he still questioned me and enquired what the Portuguese reported of him, for they must surely go in fear of him. And I replied that they spoke much of him, and of the mighty wars which he waged against them, but that now they had greatly strengthened Brikioka. Nevertheless he boated that he would catch them all in time in the forest, as he had caught me. To which I answered that his true enemies the Tuppin Ikins were preparing twenty-five canoes to attack his country, and this indeed fell out as I had said.
79
HANS STADEN
While the king was speaking with me the others stood by and listened, for he asked me much and told me much, bragging how many of his enemies, both Portuguese and savages, he had killed. In the mean-time, while he spoke thus, the drink in the huts had been consumed, and the people were moving to another hut where more drink had been prepared. And with this the king made an end of speaking.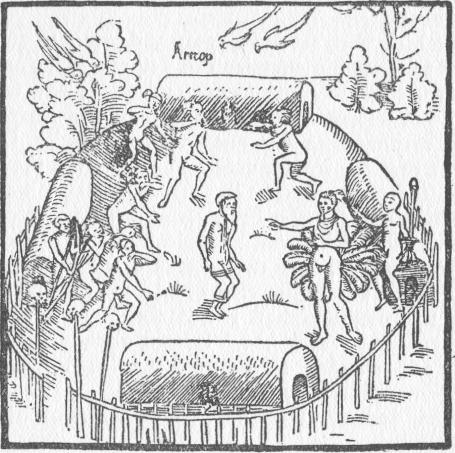 There in the other huts they began to mock me, and the king's son bound my legs in three places, and I was forced to hop thus through the huts on both feet, at which they made merry, saying: "Here comes our food hopping towards us." Then I asked my master whether he had brought me there to be killed, and he said "No," but that it was the people's custom to treat enemy slaves so. They now unbound my legs and began to walk round me, tearing at my flesh, one
80
AN ATTACK ON THE HUTS
saying that the skin on my head was his, another claiming the fat on my legs. After this I had to sing to them, and I sang holy songs, and when they asked me what I sang I told them that I was singing of my God. But they replied that my God was no better than dirt, calling him in their tongue Teuire. These words caused me much anguish, and I prayed and said: "O God, thou art long-suffering indeed." When all in the village had seen me and abused me, the king, Konyan Bebe, gave orders on the following day that I was to be closely guarded. Then they carried me away from the huts towards Uwattibi where they were to kill me, and the people mocked me, crying out after me that they would not fail to come to my master's hut to drink to me while they ate me; but my master comforted me, saying that they would not kill me yet.
CHAPTER XXIX
How the Tuppin Ikins came with twenty-five canoes, as I had predicted
to the king, intending to attack the huts where I was kept.
IN the meantime the twenty-five canoes of the savages who were friendly to the Portuguese, of whom I spoke before I was captured, came out in warlike array, and one morning they attacked the village.
Now when these Tuppin Ikins commenced to attack and were shooting at us, there was consternation in the huts and the women prepared to flee. But I said: "You take me for a Portuguese, your enemy, now give me a bow and arrows and free me, and I will help you to defend the huts." This they did, and I called out and shot my arrows, doing as they did, and encouraging them to be of good heart and no evil would befall them. My intention was to break through the stockade surrounding the huts and run towards the
81 G
HANS STADEN
attackers, for they knew me well and were apprised that I was in the village, but my captors guarded me too well. And when the Tuppin Ikins saw that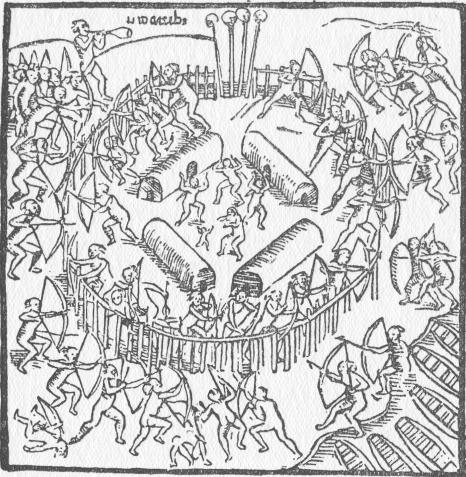 they could do nothing they returned to their canoes and departed, and as for me I was watched all the more closely.
CHAPTER XXX
In what manner the chiefs assembled in the moonlight.
ON the day on which the others departed, towards evening, when it was moonlight, the people assembled in the space between the huts and took counsel and deliberated when to kill me, placing me in their midst, and mocking and threatening me. I was much cast down and as I regarded the moon I thought within
82
THE MOON IS WRATH
myself and said: "O Lord God, rescue me from this danger and bring it to a peaceful end." Then they asked me why I looked so intently at the moon, and I replied: "I perceive that the moon is wrath," for the face in the moon seemed to me to have (God forgive me) so terrible an aspect that I imagined God and all creatures must be angry with me. Then the king who desired to kill me, by name Jeppipo Wasu, one of the chiefs of the huts, enquired of me with whom the moon was angry, and I replied: "She is looking towards your huts," whereupon he began to rage and dispute with me, and to appease him I added: "Perchance it is not you with whom she is wrath, but the Carios slaves" (these being a savage tribe so called). "Yes," said he, "upon them let the misfortune fall," and thus the matter remained, and it passed from my mind.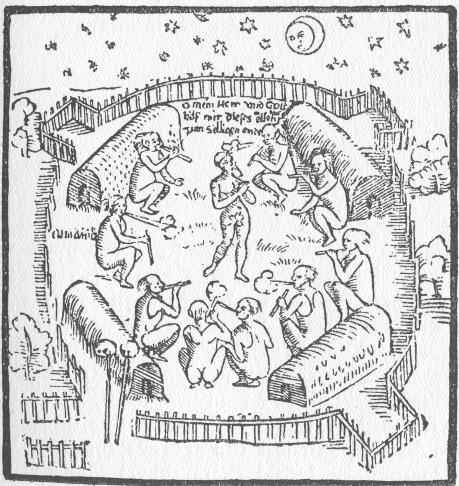 83
HANS STADEN
CHAPTER XXXI
How the Tuppin Ikins burnt another village called Mambukabe.
NEws came the next day from a village called Mambukabe that the Tuppin Ikins, after they had departed leaving me a captive, had descended upon the village and burnt it, but the inhabitants had escaped except a small boy who had been captured. Upon this Jeppipo Wasu, who had charge of me and who did me many injuries, hurried off, since the people of the village were his friends, to help them to rebuild their huts. And with him went all his companions from the huts. His intention was to bring back clay and root meal in order to prepare the feast at which I was to be eaten, and as he departed he gave orders to Ipperu Wasu, to whom he had presented me, that I was to be closely guarded. They were absent for more than a fortnight making their preparations.
CHAPTER XXXII
How a ship came from Brikioka enquiring for me, and of the brief report
which was given.
IN the meantime a Portuguese ship arrived from Brikioka and anchored not far from the place where I was, and shot off a gun so that the savages might come and parley with them. As soon as the savages heard this they said: " Here are your friends, the Portuguese. Doubtless they wish to hear whether you are still alive and to buy you." And I replied: " This will certainly be my brother," for I was sure that the Portuguese ship which was there would enquire for me, and le`I the savages should take me for a Portuguese, I told them that I had a brother,
84
THE SAVAGES FALL SICK
a Frenchman, among them. As soon as the ship drew near I told them that my brother had come, but the savages continued to maintain that I was a Portuguese, and they approached within speaking distance of the ship. When the Portuguese enquired after me the savages replied only that they might cease their enquiries. Whereupon the ship sailed away, the Portuguese thinking doubtless that I was dead. God alone knows what my thoughts were when I saw the ship depart, but the savages said amongst themselves: "We have the right man. They are already sending ships after him."
CHAPTER XXXIII
How the brother of king Jeppipo Wasu returned from Mambukale with the news that his brother and mother, and all the company had fallen sick, and entreated me to procure my God to make them well again.
WHEN I was daily expecting the return of the others who, as I have reported, were preparing for my death, I heard one day the sound of howling in the huts of the king who was absent. I was much afraid, for I thought that they had now returned, since it is the custom of the savages, when one of them has been absent for not longer than four days, to cry over him with joy when he returns.'1 Presently one of the savages came to me and reported that the brother of him who owned a share in me had returned with the news that the others were all sick, whereat I greatly rejoiced, for I told myself that now God would show his might. Not long afterwards this brother himself came to the hut where I was, and sitting down by me he commenced to cry aloud, saying that his brother, his mother, and his brother's children had all fallen sick, and that his brother had sent him to me with the
85
HANS STADEN
message that I was to make my God restore them to health; and he added that his brother was persuaded that my God was wrath with them. To which I replied: "My God is indeed angry with you for threatening to eat me, and for going to Mambukabe to prepare the feast, and for falsely accusing me of being a Portuguese." I told him, further, to return to his brother and bid him come back to the huts, and I would intercede with my God to make him well again. He replied that his brother was too ill to come, but that he knew and had observed that if I desired it he would recover. Whereupon I made answer that he must wait until he was strong enough to come home to his huts, and that then he would be restored to health. With this answer he returned to Mambukabe, which is situated four miles from Uwattibi, where I was.
CHAPTER XXXIV
In what manner the sick king Jeppipo Wasu returned home.
AFTER some days the sick persons all came back. Then was I taken to the king's huts, and he told me how the sickness had come upon them, and that I must have known of it, for he well remembered my saying that the moon was wrath with them. When I heard this I told myself that it was indeed God's doing that I had spoken of the moon on that evening, and I rejoiced greatly and said: "This day is God with me."
I told the king that this misfortune had befallen him because he had threatened to eat me, although I was no enemy of his, and he promised that if he recovered his health no evil should happen to me. But I was at a loss what to ask of God, for it seemed to me that if the savages recovered they would kill me
86
HANS AS HEALER
at once, and if they died the others would say: "Let us kill him lest greater misfortunes befall us," as indeed they had already begun to say, and I could only submit the whole matter to God, the king beseeching me anew to make them well again. I went to and fro laying my hands on their heads as they desired me to do, but God did not suffer it and they began to die. A child died first, and then the king's mother, an old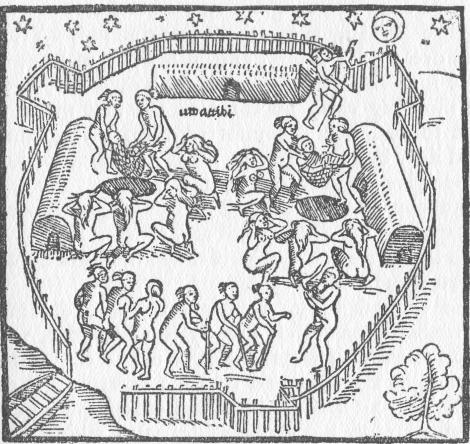 woman, whose business it was to prepare the pots for the drink with which I was to be eaten. Some days later a brother died, and then again a child, and then another brother, that one who had first brought me news of their illness.
When the king saw that his children and his mother and brother were dead he began to fear that he and his wives would die also, and he begged me to tell my God to make an end of his wrath so that he might
87
HANS STADEN
live. I comforted him mightily, telling him not to despair, and that when he recovered his health he must give up all thought of killing me, which he promised, giving orders to those in his huts to cease from mocking me and threatening to eat me. He remained sick for a time, but finally he recovered, as did one of his wives who had been stricken, but there died of his family some eight persons, besides others, all of whom had treated me with great cruelty.
There were two kings in two other huts, one called Vratinge Wasu, the other Kenrimakui. Vratinge Wasu dreamed a dream, and in his dream I appeared before him and told him that he would die, and the next morning early he came to me and made complaint to me, but I comforted him, saying that he would live, but that he also must: not think of killing me, nor give counsel to others to kill me. He replied that he would not do so, and that so long as those who had captured me did not kill me, so long he would do me no harm, and that even if they killed me he would not eat of me.
The second king, Kenrimakui, also dreamed a dream about me which greatly terrified him, and he called me into his huts and gave me to eat, and then he spoke to me of it and told me how, in one of his expeditions, he had captured a Portuguese whom he had killed with his own hands, after which he had eaten so much of him that his stomach had been afflicted ever afterwards, and that he would never eat another Portuguese. But now he had dreamed about me, and his dream was so terrible that he thought he was about to die. I comforted him also, and told him he would recover, but that he must eat no more human flesh.
The old women about the huts who had done me much injury, beating me and threatening to eat me, now called me Scheraeire, which signifies: "Son, do
88
THE FRENCHMAN RETURNS
not let me die," saying that when they ill-treated me they thought I was one of the Portuguese whom they hated. Further that they had eaten many Portuguese whose God had never been as angry as mine, and that it was clear that I was not a Portuguese at all.
After this they left me alone for a time, for they did not know what to do with me, nor whether I was in truth a Portuguese or a Frenchman. They re-marked that I had a red beard like the Frenchmen, whereas the Portuguese, although they had seen some with red beards, had in general black beards.
When the terror was abated, and one of my masters had recovered, there was no more talk of eating me, but they guarded me closely and would not suffer me to go about unattended.
CHAPTER XXXV
How the Frenchman returned who had told the savages to eat me, and how
I begged him to take me away, but my matters would not suffer
me to go.
THE Frenchman, called Karwattuware, of whom I have reported that he had abandoned me, had remained with the savages, his friends, trading with them and collecting pepper and feathers, and when he was travelling to those parts called Mungu Wappe and Iterroenne, where the ships arrive, he passed by the place where I was. Now when he left me he thought that the savages would certainly eat me, as he had recommended them to do, and having been absent for some time he expected to find me dead.
When, therefore, he entered the huts and saw me he addressed me in the savage tongue, and at that time I was not bound as previously. He asked me how it came about that I was still alive, and I told him that God in his goodness had protected me until then.
89
HANS STADEN
It occurred to me that he might have heard from the savages how matters had fallen out, and I drew him aside privately, so that the savages might not hear us, and told him again that God had spared my life, and that I was no Portuguese, but a German who had suffered shipwreck with certain Spaniards and had afterwards fallen among the Portuguese. I urged him to tell the savages this, and to make clear to them that I was his kinsman and friend, and to take me away with him when the ships arrived. For I was fearful that if he did not do this the savages would consider all that I had told them to be lies, and that sooner or later in their anger they would kill me. And I reproached him in the savage tongue, and asked whether he had a Christian heart in his bosom when he enjoined the savages to kill me, or had considered the life that was to come, whereupon he began to be ashamed and excused himself, saying that he had thought that I was indeed a Portuguese, who were such scoundrels that if the French could catch them anywhere in the province of Brazil they would hang them forthwith, which was indeed the truth. He said also that his people had to submit to the savages and be content with their treatment of their enemies, since the Portuguese were their hereditary foes.
Accordingly the Frenchman informed the savages that at our first meeting he had not properly recognized me, that I was from Germany, and was a friend of his nation, and that he proposed to take me to the place where the ships came. But the savages refused to deliver me up, stating that if my own father or brother came with a shipload of axes, mirrors, knives, combs and scissors and gave them these goods, they would not let me go, for they had captured me in the enemy's country and I belonged to them. When the Frenchman heard this he told me that, as I could see, the savages would not part with me. Then I begged him,
90
A CANNIBAL FEAST
for the love of God, to send for me and take me back in the first ship sailing for France, and this he promised to do, bidding the savages to care for me and on no account to kill me, for my friends were at hand and would certainly come for me. And with this he departed.
When the Frenchman had gone, one of my mangers named Alkindar Miri (not the one who was sick) asked me what Karwattuware (which was the savages' name for the Frenchman) had given me. He enquired also whether he was indeed my countryman, and I replied that he was. Then said he: "Why did he not give you a knife which you could have given to me?" and he was angry; and later, when they had been restored to health, the savages began to murmur against me, saying that after all a Frenchman was not worth more than a Portuguese, and I commenced to be afraid again.
CHAPTER XXXVI
Of the manner in which the savages ate a prisoner and carried me to the
feast.
SOME days later the savages made preparations to eat one of their captives. These preparations took place in a village called Teckquarippe, about six miles away, and a company of people set out for the village, taking me with them. The slave who was to be eaten belonged to a nation called Marcaya, and we travelled thither in a canoe.
Now it is their custom when they are about to kill a man for the people to brew a drink from roots called Kawi, and after they have drunk this they kill their victim. I went to the prisoner on the eve of the day on which they were to drink in preparation for his death, and said: "All is ready for your death," and he laughed and said: "Yes." Now the rope with which
91
HANS STADEN
they bind their victims is called Mussurana, and it is made of cotton, being thicker than a man's finger, and the man agreed that all was in order, only the rope was too short, for it wanted some six fathoms in length, and he added that with his people the matter would have been better arranged. And he spoke and acted as if he were going to a merrymaking.
I had with me a book in the Portuguese tongue, which the savages had taken from a ship they had captured with the help of the French, and they had given it to me. I departed from the prisoner and read in the book, and was consumed with pity for him. I therefore returned to him, for the Portuguese are friendly with the Marcaya tribe, and told him that I also was a prisoner as he was, and had not come to eat him, but had been brought there by my masters. He replied that he knew well that we did not eat human flesh. I then told him to be comforted for they would eat his body only, but his soul would be gathered to another place with the people of our nation where all was happiness and joy, but he doubted whether this was true, for he said he had never seen God. I told him that he would indeed see him in another life, and so left him.
That night a great storm of wind arose and blew so furiously that pieces of the roofs of the huts were carried away. Then the savages began to murmur against me, saying in their speech: Apo Meiren geuppawy wittu wasu Immou: "This evil fellow, the magician, has brought this wind upon us, for he looked by day into his book of thunder," meaning the book which I had, and they insisted that I had done this because the prisoner was a friend of the Portuguese, saying that I intended, perchance, to hinder the feast with bad weather. Then I prayed to God and said: "Lord, thou hast protected me until now, protect me still further," for they murmured much again me.
92
THE RETURN JOURNEY
When day broke it was fine weather and the savages drank and were merry, but I went to the victim and told him that the great wind was my God, and that he had come to claim him. And on the following day he was eaten. The manner of this is related hereafter.52
CHAPTER XXXVII
What happened on the homeward journey after the man had been
eaten.
WHEN the feast was over we returned to our dwellings, my masters bringing some of the roast meat with them. The journey, which usually occupies one day, took three days to accomplish owing to the wind and rain, and the first evening, as we were setting up huts of wood to protect us, the savages asked me to make the rain cease. Now there was a boy with us who had a piece of the leg-bone of the dead slave with some flesh upon it, which he was eating. I told the boy to throw it away, but he grew angry, as did also the others, saying that it was their proper food. So I left the matter.
When we arrived within a quarter of a mile of our dwellings we could proceed no further, since the waves were too much for us. We beached the canoe and waited for the next day, when we looked for better weather, and hoped to be able to take the canoe home, but it remained Wormy. Then they resolved to proceed by land and come back for the canoe when the weather improved. As we were about to go, the savages finished their meal, and the boy continued gnawing the flesh off the bone, after which he threw it away, and as soon as we set out the weather improved. "Now see," said I, "you doubted when I said that my God was angry because the boy ate the
93
HANS STADEN
flesh from the bone," and they all agreed, saying that he should have eaten it out of my sight, and that the weather would then have continued fine, and so the matter rested.
After we had at last reached the huts, one of the men who owned a part of me, named Alkindar, enquired whether I had seen what they did with their enemies, and I replied that I had seen it indeed, but that the eating was more terrible to me than the killing. Whereupon he answered: "Such is our custom, and so we do also with the Portuguese."
This Alkindar was very incensed against me and would have rejoiced if the man to whom he had presented me had killed me, for, as you will have read above, Ipperu Wasu had presented him with a slave for him to kill in order to obtain a fresh name for himself, and Alkindar in return had vowed to present him with the first slave he caught. Since he had not killed me, however, Alkindar would gladly have done so himself, but his brother prevented this, fearing that fresh misfortunes might befall him.
Before the others had taken me to the place where they ate the man, this same Alkindar had renewed his threats to kill me, but when I returned I found that during my absence he had been attacked by pains in the eyes, and was forced to lie still. He was quite blind for a time, and begged me continually to speak with my God so that he might be cured. I consented upon condition that he should cease to ill-treat me, which he promised, and in a few days he was restored to health.
94
A PORTUGUESE SHIP ARRIVES
CHAPTER XXXVIII
How once more a ship was sent after me by the Portuguese.
AFTER I had been five months among the savages, another ship came from the island of Sancto Vincente, for it is the custom of the Portuguese from time to time to send ships which are well armed into the country of their enemies to trade with them, giving them knives and sickles in exchange for mandioca meal, which the savages have in great quantities. The Portuguese have many slaves employed in the sugar plantations and require the meal for their food. When the ships come to trade, the savages row out, one or two in a canoe, and keeping as far away as possible, they hand out their goods, and name what they require in exchange which the Portuguese then give them. All the time that the two men are close to the ship, their companions keep a look out some distance off in their canoes, and when the trading is at an end, the savages often draw near and skirmish with the Portuguese and shoot their arrows at them, after which they return.
The crew of the ship fired a gun so that the savages might know that a ship had arrived, and when the savages rowed out, they enquired of them concerning me, whether I was dill alive, and the savages answered "Yes." Then the Portuguese desired to see me, dating that they had a box full of things for me from my brother, also a Frenchman, who was in the ship with them.
Now there was a Frenchman called Claudio Mirando with the Portuguese in the ship who had been my companion. This man I called my brother, and I thought that he might be in the ship enquiring for me, as he had made the voyage before. The savages returned from the ship, and told me that my brother
95
HANS STADEN
had come back, bringing me a box of goods, and that he desired to see me. Then I said: "Carry me to a place near at hand so that I can speak with my brother. The Portuguese will not underhand what we say, and I will tell him to ask my father, when he returns home, to send a ship full of goods and take me away." To this they agreed, but they were much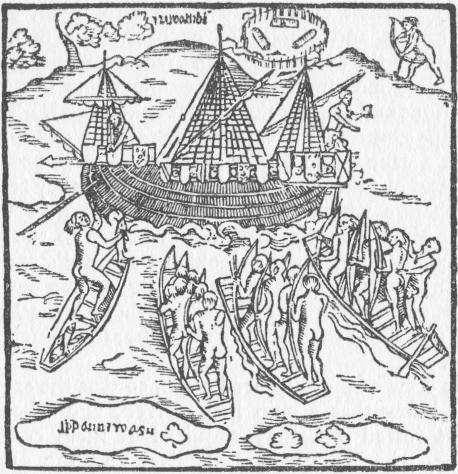 concerned lest the Portuguese should underhand what we said, for the savages intended to make war during the month of August in the neighbourhood of Brikioka where I was captured, and I knew all their plans, and they were afraid I might disclose them. But I assured the savages that the Portuguese could not underhand our speech. Then they carried me to within a bone's throw of the ship, naked as I was and had been all the time of my captivity, and I spoke to those in the ship
96
and said: "The Lord God be with you, my brothers. Let one speak to me alone and do not allow it to be seen that I am otherwise than a Frenchman." Then one spoke who was called Johann Senches, a Biscayan, whom I knew well, and he said: "My dear brother, on your account have we come in the ship, not knowing whether you were dead or alive, for the fir± ship brought no news of you. Captain Brascupas53 at Sanctus has ordered us to find out whether you were still alive, and if so to endeavour to buy you back, and if that failed to try and capture some of the savages to exchange for you."
Then I said: "Now may God reward you in eternity, for I am here in great fear and peril, and know not what may befall me. But for God's merciful intervention I should have been eaten." I said further: "They will not sell me to you: they would not even think of it, but do not you in the ship let the savages think of me otherwise than as a Frenchman, and give me, for the love of God, knives and fish-hooks." This they did at once, and a man returned to the ship and fetched them.
When I saw that the savages would not suffer me to parley any longer, I said to the Portuguese: "Look well to it, they are going to attack Brikioka." They replied that the savages, their allies, were also preparing for war, and would attack the village where I was, and that I was to be of good cheer, since God would do what was best, but, as I could see, they were powerless to help me. I agreed, saying: "All this has befallen me on account of my sins. It is better that God should punish me now, rather than in the world to come, but pray you to God for my deliverance": and I commended them to God. The Portuguese desired to speak further with me, but the savages would not permit it and carried me back again to the huts.
Then I took the knives and fish-hooks and gave
97 H
them to the savages saying: "All these my brother, the Frenchman, gave me." And they enquired what he had spoken about with me. I replied that I had told my brother to escape from the Portuguese and return to our home, and bring a ship well stocked with goods to fetch me: "For," said I, "you are good people and treat me well and I am anxious to reward you when the ship comes." Thus at all times I had to conciliate them and they were well pleased.
Afterwards they spoke among themselves and said: "He must surely be a Frenchman, let us in future treat him more kindly." So matters continued for a while, I telling them that a ship would shortly come to fetch me and that they were to treat me well. Then they carried me about with them in the forest and forced me to labour for them.
CHAPTER XXXIX
How a slave, who had perpetually defamed me and desired to have me
killed, was himself killed and eaten in my presence.
THERE was a slave among the savages belonging to the nation called Carios, who were enemies of the savages and allies of the Portuguese. This man had been a slave among the Portuguese, but had escaped from them. The savages do not kill those who escape in this wise unless they commit some crime, but keep them as slaves to serve them. This slave had been three years among the Tuppin Inba people, and had declared that he had seen me among the Portuguese, shooting with the Tuppin Inba when they made war upon them.
Now some years previously the Portuguese had slain one of their kings, and this man maintained that the king had been shot by me, and he urged the savages
98
constantly to kill me, saying that I was their real enemy as he himself had seen, but this was all lies, for he had been three years there and only a year had passed since I had reached Sancto Vincente, from which place he had escaped. And I prayed God to save me from his lies.
It happened about the year 1554, in the sixth month of my captivity, that this Cario fell ill, and his master besought me to help him and make him well again, so that he might catch game for us to eat, especially since, as I knew well, the food that was brought in was shared with me. But if I was of opinion that the man could not recover, then he would give him to one of his friends, so that he might kill him and take a fresh name for himself. And the man had been ill for nine or ten days.
Now the savages are accustomed to use for several purposes the teeth of a wild beast called Backe,54 which they sharpen, and when the blood is sluggish they cut the skin with one of these teeth so that the blood flows freely. This is equivalent with us to letting blood. I took one of these teeth, intending to open the median vein, but I could not cut it as the tooth was too blunt, and the savages wood round about. As I left him I saw that it was useless, but the savages continued to enquire whether he would recover, to which I replied that I could do nothing and that, as they saw, the blood would not flow. Then they said: "He will surely die. Let us kill him before he is dead." I answered:
"No, do not kill him, for possibly he may recover," but I could not restrain them. They dragged him in front of the hut of the king Vratinge, while two men held him, although he was so ill that he did not know what they were doing. Then the man came up, to whom the Cario had been given, and beat out his brains, after which they left him lying before the huts ready to be eaten. But I warned them that he was
99
HANS STADEN
a sick man, and that they might also fall sick if they ate him, and they knew not what to do. Nevertheless, one came from the huts where I was and called the women-folk to make a fire beside the body. Then he cut off the head, for the man had lost an eye from his disease and his appearance was horrible, and throwing away the head, he singed the body at the fire. After this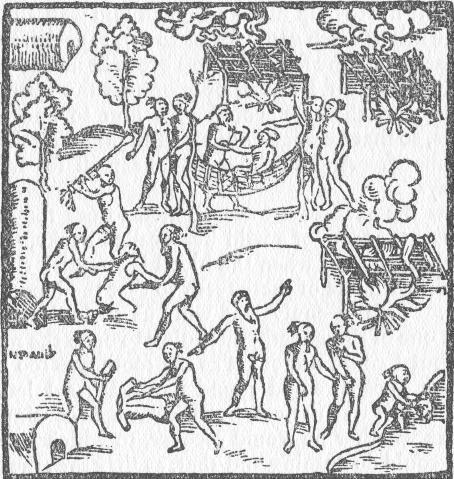 he cut him up and divided the flesh equally, as is their custom, and they devoured everything except the head and intestines, which they did not fancy, on account of the man's sickness.
As I went to and fro in the huts I saw them roasting here the feet, there the hands, and elsewhere a piece of the trunk, and I told the savages that this Cario whom they were roasting and eating had always spoken ill of me, saying that while I was among the Portuguese
100
A FRENCH SHIP ARRIVES
I had shot several of their friends, and that he lied, for he had never seen me before. "Now see," said I, "he had been several years with you and had never been sick, but on account of his lying stories about me, my God was angry with him and smote him with sickness and put it into your minds to kill and eat him. So will my God do to all evil persons who seek or have sought to injure me." And they were greatly terrified at my words, but I thanked God that he had in this wise shown his might and power through me. Note reader, and mark well my writing, for I do this not in order to tell you range things, but only to make known the wonderful works of God.
The time now approached when the savages proposed to make war, having prepared themselves during three months. I hoped that when they departed they would leave me with the women, so that I might escape in their absence.
CHAPTER XL
How a French ship arrived to trade with the savages for cotton and
Brazil-wood, to which ship I tried to escape, but God did not intend it.
SOME eight days before the savages intended to set out for war, a French ship arrived in a harbour called by the Portuguese Rio de Jenero, and by the savages Iteronne, which was about eight miles away. There the French are accustomed to load wood, and they came now with their boat to the village where I was, and traded with the savages for pepper, apes and parrots. One of the crew came from the boat on shore, who was called Jacob and knew the savage speech, and as he traded with the people, I begged him to take me back to his ship, but my master declined to let me go, saying that they would require much goods
101
HANS STADEN
for me. Then I told the savages to take me themselves to the ship, and my friends would give them all that they required, but they would not, saying: "These are not your true friends, or they would have given you a shirt when they saw that you were naked. It is clear that they take no account of you" (which was indeed true). I replied that they would clothe me when I reached the great ship, but they answered that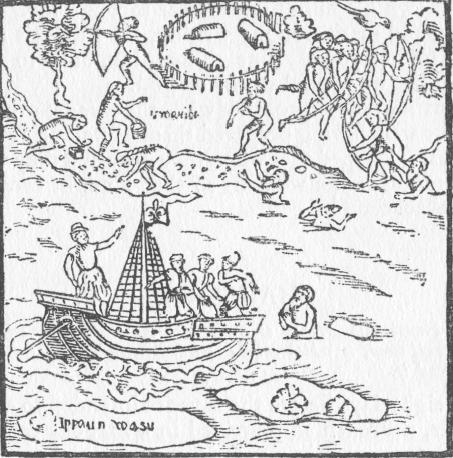 the ship would not depart at present and they had first to set off to war, but when they returned they would take me to it. So'the boat prepared to go back to the ship, having anchored for a night at the village.
Now when I saw that the boat was preparing to depart, I prayed and said: "O merciful God, if the ship sails without me I shall certainly perish, for this is a people in whom no man can trust." With this I left the huts and ran towards the water, but the savages
102
HANS TRIES TO ESCAPE
saw me and came after me. I ran as fast as I could, while they tried to seize me. The first that came up with me I struck down, and soon the whole village was at my heels, but I escaped and swam out beside the boat. When I tried to climb into the boat the Frenchmen thrust me away, for they thought that if they took me thus the savages would rise against them and become their enemies. So, very sadly, I swam back to the shore, for I saw it was God's will that I should remain there still longer in misery. But if I had not tried to escape then I should have blamed myself afterwards.
When the savages saw me return they rejoiced and said: "Now he comes back to us." But I was wrath with them and said: "Do you think that I would leave you thus? I went to the boat to tell my people that they must send again for me after your return from the wars, so that when you bring me to them they will have much to give you in exchange." This pleased them greatly and they were once more contented.
CHAPTER XLI
How the savages went forth to war taking me with them and what befell
me on the way.
FOUR days later the canoes began to assemble in the village in readiness for the expedition, and the chief king Konyan Bebe came also with his boats. My master announced that he would take me with him, but I asked to be left behind, and this would have happened if the king, Konyan Bebe, had not ordered otherwise. I let them see that I went unwillingly, lest they should think that I intended to escape when they reached the enemy country, and that they might guard me less closely. But it had been my intention,
103
HANS STADEN
if they left me at home, to run away to the French ship.
However, they took me with them. There were thirty-eight canoes, each canoe carrying eighteen men more or less. Certain of them had enquired of their idols by dreams and had committed other follies concerning the expedition, as is their custom, and they were all much puffed up. Their intention was to make for the neighbourhood of Brikioka, where they had captured me, and to conceal themselves in the forest close by, and take back those who fell into their hands.
It was now about the 14th day of August in the year 1554. At this time, as I have stated before, it is the custom for the fish which is called in Portuguese Doynges, in Spanish Liesses, and in the savage tongue Bratti,55 to leave the sea for the fresh waters in order to spawn there, and this season of the year the savages call Pirakaen. At this time the savages go forth to war, both they and their enemies, catching and eating the fish by the way, and on the journey out they travel slowly, but on the journey back they travel as speedily as they can.
I hoped that the savages who were friendly to the Portuguese would also then be going to war, for those in the ship had told me that the savages, their allies, intended to attack at this time. My companions enquired of me continually during the voyage whether they would capture any prisoners, and in order not to anger them I said "Yes." I also told them that the enemy would engage them. One night we lay at the place called Uwattibi, where we caught many of the fish called Bratti, which are as large as a good-sized pike. That night the wind blew mightily, and the savages talked much to me and asked me many questions, whereupon I said that the wind was blowing over the bodies of dead men. Now it happened that
104
ON THE WARPATH
another party of savages had set out by water to a river called Paraibe, and my companions concluded that this party must have reached the enemy country, and that some of the men were dead. This, as I heard later, had in fact happened.
When we were a day's journey further on, and were preparing for the attack, we hid ourselves in a wood close to an island which is called by the Portuguese S. Sebastian, and by the savages Meyenbipe. At night the king, Konyan Bebe, went to and fro in the camp and harangued and said that we had now arrived close to the enemy country, and that each one was to take note of his dreams that night, and that all were to see to it that their dreams were good. When he had finished speaking, the men danced with their idols until far into the night, after which they slept, and as my maser laid himself down he told me to be sure to dream well, but I replied that I took no account of dreams which are delusions. He then bade me speak to my God so that they might take many prisoners.
At daybreak the chiefs gathered round a cauldron of stewed fish, and while they ate they recounted their dreams, in so far as they were propitious; others danced with their idols, and that day they elected to set out for a place called Boywassu Kange, which was close to the enemy's country, where they would rest until evening. When we left the place called Meyenbipe, where we spent the night, the savages enquired of me what was in my mind, and I said at a venture that the enemy would meet us close to Boywassu Kange, but that we had nothing to fear; and it was my intention at Boywassu Kange to make my escape, for it was only six miles from the place where I had been captured.
As we were coasting along we saw a number of canoes approaching us from behind an island, and the savages called out: " Here come our enemies the
105
HANS STADEN
Tuppin Ikins," and we hid ourselves behind a rock so that the others might pass without observing us, but they became aware of us and commenced to row in the direction of their home. We rowed after them as swiftly as we could, and gave chase for four whole hours until we came up with them. There were five canoes full of men, and they all came from Brikioka. I knew them all. In one of the canoes were six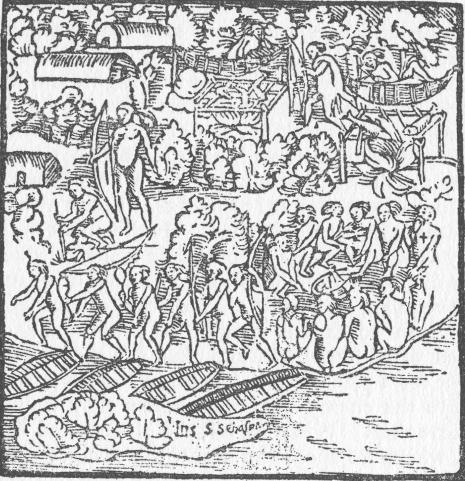 mamelukes who had been baptized, and among them were two brothers, one called Diego de Praga, the other Domingus de Praga,56 who defended themselves stoutly, one with a gun, the other with a bow and arrows. These two alone kept our thirty canoes at bay for two whole hours. But when their arrows were exhausted the Tupin Inba fell upon them and captured them, and some were knocked on the head at once or
106
THE FATE OF THE PRISONERS
shot. The two brothers were unhurt, but two of the six mamelukes were badly wounded, as were also several of the Tuppin Ikin, among whom was one woman.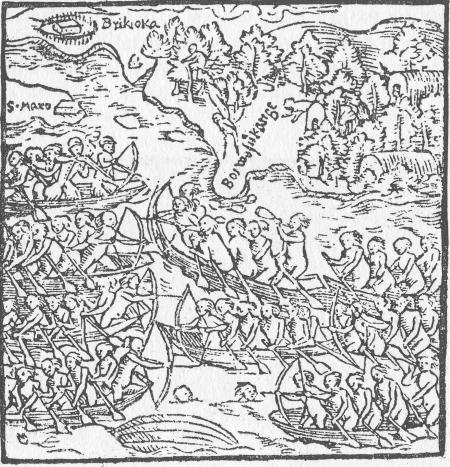 CHAPTER XLII
How the prisoners were disposed of on the return voyage.
THE capture had taken place at sea, two full miles from land, and we hurried back as quickly as we could in order to encamp in the place where we had spent the previous night. When we reached the land called Meyenbipe it was evening and the sun was setting, and each man took his prisoner to his hut. Those that had been badly wounded they carried to the land, where they were killed at once and cut up and roasted.
107
HANS STADEN
Among those who were roasted that night were two of the mamelukes who were Christians; one was a Portuguese named George Ferrero, the son of a captain by a native woman. The other was called Hieronymus. He had been captured by a native belonging to my hut, whose name was Parwaa, and this man spent the whole night roasting Hieronymus, scarcely a step from the spot where I lay. This same Hieronymus (God have his soul) was blood relation to Diego de Praga.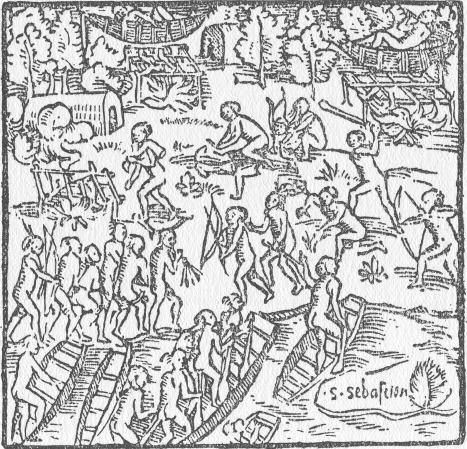 That night, when we were encamped, I went into the hut where the two brothers were to talk with them, for they had been my good friends at Brikioka where I was captured. They enquired of me whether they would also be eaten, but I told them that they must trust in our Heavenly Father and in his Son Jesus Christ, who was crucified for our sins, and in whose
108
A CANNIBAL FEAST
name we were baptized. I said also: "This is my belief. God has watched over me so long here among the savages, and what God decrees must satisfy us."
The two brothers enquired also concerning their cousin Hieronymus, and I told them that he lay by the fire roasting, and that I had seen a piece of Ferrero's son being eaten. Then they commenced to weep, and I comforted them, telling them that I had been eight months or thereabouts among the savages, and that God had been my protector. "So also," I said, "will he protect you, if you trust in him." I told them also that it was harder for me than for them, for I had come from foreign countries, knowing nothing of the dreadful practices of the savages, but, as for them, they had been born in the country and bred there. They replied, however, that I had been hardened by misery and should therefore take less account of it.
As I was discoursing with them, the savages came and ordered me to depart, and they wanted to know what matters I had discussed with them at such length. I was sad at leaving them, and told them to put their whole trust in God, and to remember what sufferings were ours in this vale of sorrows, and they replied that never until then had they realized this, that they owed their lives to God, and that they would die more happily since I was with them. With that I left them and went through the whole camp visiting the prisoners. I went alone and none heeded me, and I could have escaped then, for the island Meyenbipe was only some ten miles from Brikioka, but I refrained on account of the Christian prisoners, of whom four were still alive. I thought that if I escaped, the savages would kill them at once in their anger. It might well be that God would still preserve us all, and I resolved to remain with them and comfort them, and this I did. The savages were now very favourably disposed towards
109
HANS STADEN
me, since I had predicted, by chance, that the enemy would encounter us, as indeed it fell out. They said also that I was a better prophet than their prophet Miraka.
CHAPTER XLIII
How they danced in the camp on the following day with their enemies.
ON the day following we reached a place not far from the country of my captors, called Occarasu, a great mountain. There we camped for the night, and I went to the hut of Konyan Bebe, the chief king, and asked what he intended to do with the two mamelukes. He replied that they would be eaten, and forbade me to speak with them, for he was very wrath, saying that they should have spayed at home instead of going to fight with his enemies. I begged him to spare their lives and sell them back again to their friends, but he was resolved that they should be eaten.
This same Konyan Bebe had then a great vessel full of human flesh in front of him and was eating a leg which he held to my mouth, asking me to taste it. I replied that even beasts which were without understanding did not eat their own species, and should a man devour his fellow creatures? But he took a bite saying Jau ware sehe: "I am a tiger; it tastes well," and with that I left him.
In the evening he gave orders that each man should bring his prisoner to an open space by the water, and this was done, and the savages gathered together into a circle with the prisoners in the centre, and they forced them to sing and rattle the idols which are called Tammaraka.57 When the prisoners had finished singing, they commenced to talk wantonly among themselves, saying: "We set forth like brave men intending to capture you, our enemies, and to eat you. Now you have the mastery, and have taken us, but we
110
THE RETURN JOURNEY
do not crave for mercy, for brave men are willing to die in an enemy country. But our land is wide and there are many waiting to take vengeance for our deaths." And the others made answer: "You have slain many of our fellows. Now will we be the avengers." When this speech was ended the prisoners were taken back to the huts.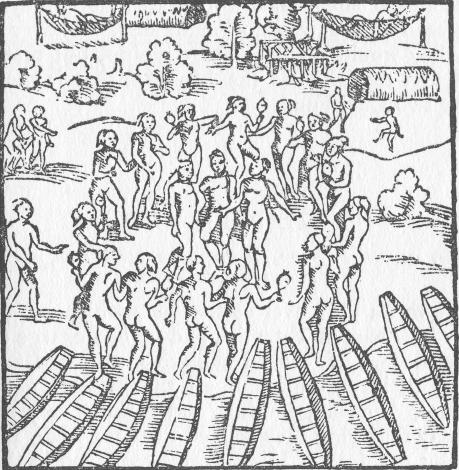 Three days later we reached our country and each man took his prisoner to his dwelling. In the village of Uwattibi, where I was, there were eight live savages who were prisoners and three Christian mamelukes, namely Diego and his brother, and another Christian called Antonio, the latter having been captured by my master's son. The two other mamelukes they carried home roasted, ready to be eaten. The journey out and home again had lasted eleven days.
111
HANS STADEN
CHAPTER XLIV
How the French ship, to which the savages had promised to bring me,
was still there when they returned from the war.
WHEN we returned home I asked to be taken to the French ship, telling my captors that I had been with them upon their expedition, and had assisted them to capture their enemies, and from this alone they must have seen that I was no Portuguese. They replied that they would carry me to the ship, but that they must first rest and eat the Mokaen, that is the flesh of the two Christians.
CHAPTER XLV
How they ate George Ferrero, the Portuguese captain's son, and the first
of the two roasted Christians.
THERE was a king over certain huts which were close to my hut, named Tatamiri, and he had charge of the roasted flesh. He caused drink to be prepared, according to their custom, and all the savages gathered together, drinking, singing, and making very merry. The day following they cooked the flesh again and ate it. But the flesh of Hieronymus remained in the hut where I was, hanging in the smoke, in a pot over the fire for three weeks, until it was as dry as wood. This was due to the fact that one of the savages named Parwaa had gone to collect roots with which to prepare drink to be served when Hieronymus was eaten, and so the time passed. The savages would not take me to the ship until they had celebrated their feast and eaten the remains of Hieronymus, and in the meantime the ship had departed, for it lay about eight miles from the place where I was.
112
A MIRACLE
When I heard the news of this I was much cast down, but the savages assured me that the ship came every year, and with this I had to be content.
CHAPTER XLVI
How Almighty God worked a wonder.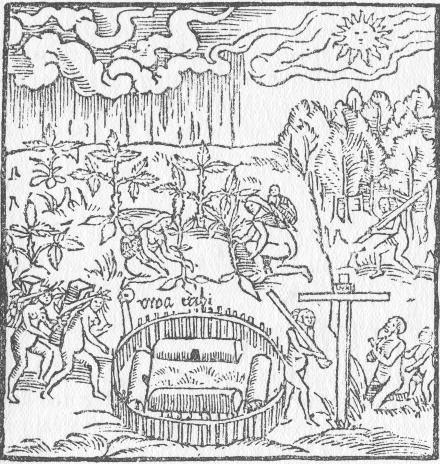 I HAD made a cross of reeds and set it up in front of my hut, and it was my custom to say my prayers there. I had told the savages not to remove it, lest some misfortune should befall them. But they gave no heed to my words, and once when I was away fishing, a woman tore up the cross and gave it to her husband to use for rubbing down the charms which they make from the shells of sea-snails, since it was round. At
113   I
HANS STADEN
this I was very sad, and some days later it began to rain heavily. The rain endured for several days, and the savages came to my hut and asked me to tell my God to stop the rain, for if it continued it would spoil their planting, the time for which had then arrived. I replied that it was their own fault, for they had angered my God by pulling up the wooden stick in front of which I used to speak with him. When they heard that this was the cause of the rain, my master's son helped me to set up another cross, and it was then about an hour after , reckoning by the sun. As soon as the cross was set up the weather, which before had been very stormy, began at once to improve. And they all marvelled, saying that my God, in truth, did as I told him.
CHAPTER XLVII
How I went fishing one evening with two savages, and God worked
another wonder with rain and storm.
ONE day I went fishing with the chief named Parwaa, the man who had roasted Hieronymus, and as I stood fishing with him and another at the close of day, there arose a great storm of rain and thunder not far from where we stood, and the wind blew the rain in our direction. Then the two men begged me to ask my God to see to it that the rain did not hinder us, so that we might catch more fish since, as I knew, there was nothing to eat in the hut. Thus moved, I prayed to God from the depths of my heart, that he might show his power in me and make plain to the heathen that he was with me at all times. As I finished my supplication the wind, blowing mightily, carried the rain towards us, so that it was raining heavily some six feet away from us, but on the place where we stood we
114
ANOTHER MIRACLE
felt nothing. Then the savage Parwaa spoke saying: "Now I see that you have indeed prayed to your God," and we caught a number of fish.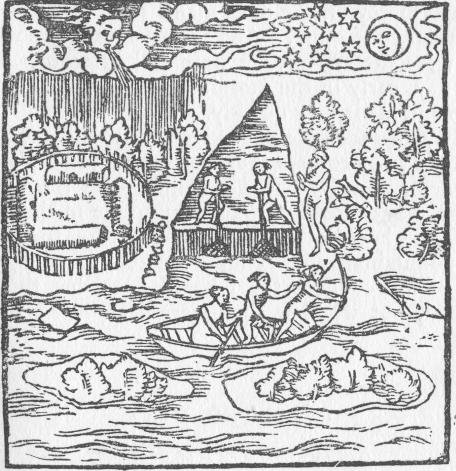 When we returned to the huts the two men told the others what had happened when I spoke to my God, and they were all amazed.
CHAPTER XLVIII
How the savages ate the second roasted Christian, called Hieronymus.
WHEN all was made ready, as I have already related, the savage Parwaa caused drink to be prepared which was to be served when Hieronymus was eaten. When they had finished drinking they brought out the two
115
HANS STADEN
brothers and another named Anthonius who had been captured by my master's son, and we four Christians were there together. We were forced to drink with the savages, but before doing so we prayed to God to have mercy on the dead man's soul, and to us also when our time came. And the savages spoke with us and were merry, but we were full of sorrow. The next day, early in the morning, they cooked the flesh again and ate it very quickly.
They now took me to be given away, and as I parted from the two brothers they begged me to pray to God for them, and I advised them, in case they should escape, what direction they should take in the mountains, and how best to cover their tracks, for I knew the mountains well. They were able to take advantage of my counsel, for I heard later that they had escaped, but whether they were recaptured I know not.
CHAPTER XLIX
How they carried me to he given away.
THE savages now carried me to a place called Tackwara Sutibi, where they intended to give me away. When we were a short distance from the shore I looked behind me towards the huts and saw a black cloud hovering over them. I pointed this out to my companions, and told them that my God was wrath with the whole village for having eaten Christian flesh. When we arrived at the end of our journey I was presented to a king called Abbati Bossange, and the savages warned him that he was not to injure me or suffer me to be injured, since my God was very mighty again those that did me evil, which thing they had seen while I was with them. And I added my own warning, saying that my brother and friends would shortly arrive with
116
ANOTHER SHIP ARRIVES
a ship full of goods, and if they took care of me I would make them large gifts; for I knew full well that my God would send my brother with the ship right speedily. This pleased the savages greatly, and the king called me his son and I went with his sons hunting.
CHAPTER L
How the savages of this place reported to me that the French ship had
sailed away again.
THE savages now told me that the French ship called Maria Bellete from Dieppe, which I had wished to join, had departed, having taken in a cargo of Brazil wood, pepper, cotton, feathers, monkeys, parrots and the like. Also that the crew had captured a Portuguese ship in the harbour of Rio de Jenero, and had given a Portuguese sailor to a king called Ita Wu who had eaten him.58 I learnt, further, that the Frenchman who saw me when I was captured, and told the savages to eat me, was returning home in this ship. It was this ship's boat which I had tried to reach when I made my escape and the crew refused to take me in. She was, however, 1ost on the voyage home, for when I reached France in another ship, as I shall relate hereafter, no one could tell me what had become of her.
CHAPTER LI
How shortly after I had been given away, another ship arrived from
France, the Catherine of Vattavilla,59 which through God's pro-
vidence was able to buy me, and of the manner in which this fell out.
I REMAINED some fourteen days in the place Tackwara Sutibi with king Abbati Bossange, and one day it happened that certain of the savages came to me and
117
HANS STADEN
reported that they had heard the sound of shooting, which must have come from the harbour of Iteronne, or Rio de Jenero. As I was sure that a ship must have arrived there, I told them to carry me to it, for this was doubtless my brother's ship. They agreed to do this, but detained me for a few days more.
In the meantime it happened that the Frenchmen who had arrived there heard that I was a prisoner among the savages, and the captain sent two of his men, together with certain native kings, their friends, to the place where I was, and they came to a hut, the chief king of which was called Sowarasu. My hut was close at hand, and news was brought to me that the two men had arrived from the ship. At this I rejoiced greatly, and went to them and bade them welcome in the native tongue, and when they saw my misery and nakedness they were full of pity and shared their clothes with me. I asked them why they had come and they said that it was on my account, and that their orders were to take me to the ship and to use force if necessary. Then my heart overflowed with gratitude to God, and I told one of the men, who was called Perot and knew the savage tongue, that he must make believe he was my brother, and that he was to say that he had brought me certain chests full of merchandise and must take me with him to the ship to fetch them. He was to tell the savages also that I would then return to collect pepper and other things and wait until the ship came again next year. Then they took me to the ship, my master going with us, where they received me in all pity and showed me great kindness. After we had been some five days in the ship, the king Abbati Bossange, to whom I had been given, asked me for the chests which they had brought me, so that we might now return home. I reported this to the ship's captain who told me to put him off until the ship had taken in the full cargo, in case the
118
THE ESCAPE
savages should become angry when they saw that I was kept in the ship and work some mischief, since they were a people in whom no trust could be placed. My master still thought that he would take me back with him, but I held him with empty words, telling him not to hurry, for he knew that when good friends came together they could not part at once, and that when the ship left we would return to the huts. And so I satisfied him.
At last the ship was ready and the Frenchmen were all mustered together and I with them, the king, my master, with his people, being also there. Then the ship's captain spoke to the savages through his interpreter, and said that he was well pleased that they had not killed me when they captured me from among their enemies. He said also, in order to make it easier for him to take me away, that he had ordered me to be brought to the ship so that he might reward them for their care of me. Further, that it was his intention to give me goods and wares, and as I was known to them, to leave me there to collect pepper and other useful commodities until he came again. Meanwhile we had arranged between us that some ten of the crew, who were not unlike me, should gather round and say that they were my brothers and wanted to take me home. And so it fell out. My brothers would not suffer me to land, saying that I must return with them, as my father longed to see me once more before he died. Upon this the captain told the savages that he was captain in the ship and would have preferred that I should return with them, but that he was only one against many and could do nothing. All this was ordained so that we might part from the savages on friendly terms. I told the king, my master, that I should greatly like to return with him, but that, as he could see, my brothers would not allow me to do so. Thereupon he began to howl and cry in the ship,
119
HANS STADEN
saying that if they took me away I must return with the first boat, for he looked upon me as his son, and was wrath with those of Uwattibi for threatening to eat me. And one of his wives who was in the ship began to cry over me, according to their custom, and I cried also. Then the captain gave them goods, some five ducats' worth in knives, axes, looking-glasses, and combs, and the savages returned with them to their dwellings.
Thus Almighty God, the God of Abraham, Isaac and Jacob, saved me from the hands of these evil men. To him be praise and glory through Jesus Christ, his Son, our Redeemer. Amen.
CHAPTER LII
The name of the ship's captain, from whence the ship came, and what
happened before we left harbour, and the manner of our return
to France.
THE captain of the ship was named William de Moner and the helmsman was called Francoy de Schantz. The ship was the Catherine of Wattavilla, and we now made all things ready to sail for France. One morning, as we lay in the harbour of Rio de Jenero, a small Portuguese vessel came by intending to leave the harbour, the crew of which had been trading with a friendly tribe of savages called Los Markayes. Their country abuts on the country of the Tuppin Ikins, who are friendly to the French, but the two tribes are great enemies.
This ship was the one which, as I have related, came after me to buy me from the savages, and it was owned by a factor named Peter Rosel. The Frenchmen armed a boat and drew near, intending to take it, and I went with them to speak to the Portuguese and advise them to surrender. But when we attacked them they
120
HANS ARRIVES IN FRANCE
beat us off and killed and wounded several of us. 1 also was wounded by a shot, and that more severely than some of the others who recovered, for I was very near death, and in my fear I cried to God and besought him, since he had rescued me from the savages, to save
me alive and bring me safe to Christian lands, so that I might make known there the mercies vouchsafed to me. And in due course I was completely restored to health. Glory be to God for ever and ever.
On the last day of October 1554 we sailed from the harbour at Rio de Jenero, and made for France. We had favouring winds, so that the crew marvelled saying that such weather must have been sent specially as a gift from God (as indeed it was), for the hand of God was upon the waters.
On Christmas Eve great numbers of fishes surrounded the ship which are called porpoises, and we
121
HANS STADEN
caught so many that for a few days we ate our fill of them. On the feat of the Three Kings God sent us also an abundance of fish, and save for this we had little to eat in the ship. About February 20 in the year 1555 we reached the Kingdom of France and anchored at a small town called Honfleur in Normandy. During the whole voyage we saw no land for well-nigh four months. I assisted to unload the ship, and then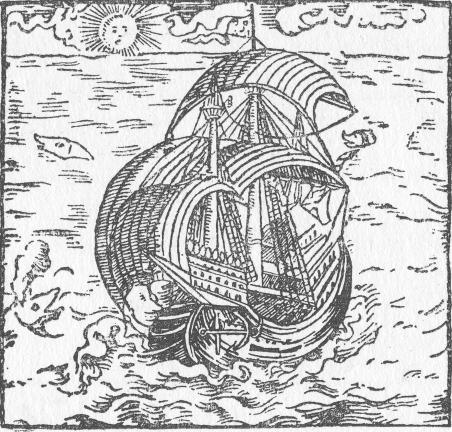 thanking the crew for their kindness to me, I asked the captain for a passport. He was anxious for me to take another voyage with him, but when he saw that I would not be persuaded, he requested the Governor of Normandy, Moensoral Miranth, to give me a passport, and the Governor, when he had news of me, called me into his presence and gave me the passport personally. My captain gave me money for my journey, and taking my leave of him, I made my way from Honfluer to Habelnoeff,60 and so to Dieppe.
122
HANS AT DIEPPE
CHAPTER LIII
How at Dieppe I was taken to the house of the captain of the ship Bellete,
which had left Brazil before us, but had not yet arrived.
THE ship Maria Bellete, in which was the interpreter who had told the savages to eat me, and in which he proposed to return to France, belonged to Dieppe, and the crew of this ship were the people who refused to take me into the boat when I escaped from the savages. The captain also was the man of whom the savages told me that he had given them a Portuguese sailor to eat when he took the Portuguese ship, as I have related before."61
The crew of the Bellete had not yet reached land when I arrived, although, reckoning by the voyage of the ship from Wattavilla which carried me, they should have preceded us by three months. The wives and relations of the men came to me, enquiring if I had news of them. I said that I had indeed news of them, and that there were godless people in the ship, what-ever else they might be, and I related how one of them who was in the ship, finding me in a savage country, had told the savages to eat me, but that God had brought me home in safety. I told them, further, that when they were in their boat by the huts where I was, having traded with the savages for pepper and monkeys, these people, I said, when I contrived to escape and swam out to them refused to take me in and forced me to return to land to the savages, which nearly broke my heart. Also that they had given a Portuguese sailor to the savages to be eaten, and were a people altogether without pity. "From this," said I, "it is clear that God dealt kindly with me, so that I am here to bring you the latest tidings. Let them come when they may, but I will prophesy to you that God will see to it that such cruelty and tyranny as they
123
HANS STADEN
showed to me among the savages (God forgive them) will be punished sooner or later, since it is clear that God listened to my complaints." I told them also the manner in which I had been purchased from the savages and of my voyage home, and the truth of these matters, how that God had sent us good weather and favouring winds, and had given us fish from the depths of the sea. They were much cast down and enquired of me whether I thought they were safe, and in order not to distress them overmuch I said that it was possible that they might return. But I, and indeed most people, could not suppose otherwise than that they had perished with the ship. I then took my leave, telling them to report to their kinsmen, if they arrived, that God had preserved me, and that I had reached my home in safety.
From Dieppe I travelled by ship to London in England, where I spent some days, after which I sailed for Zeeland and Antwerp. Thus did Almighty God, to whom all things are possible, bring me safely to my Fatherland, to whom be praise for evermore. Amen.

HANS STADEN'S PRAYER
My prayer to the Lord God when I was in the hands of the savages
who threatened to eat me.
Almighty God, the maker of heaven and earth, God of our forefathers, Abraham, Isaac and Jacob, who with great might didn`t bring the children of Israel through the Red Sea out of the hands of their enemies, and didst save Daniel in the den of lions, I beseech thee, all-powerful and eternal God, through thy dear Son Jesus Christ, who has redeemed us prisoners from everlasting captivity, to deliver me from the power of these tyrants who know thee not. If Lord it is thy will that I should suffer death at the hands of these people, who when I speak of thee deny thy power to save me, so strengthen me in my last hour when they work their will upon me that I may trust in thy mercy to the end. And if I am to suffer this great misery, now, do thou give me peace hereafter and save me from those torments which our fore-
124
HIS PRAYER AND HYMN
fathers so much feared. Yet Lord thou cant deliver me from their hands, help me Lord, for I know thy might, and when thou had delivered me, so will I acknowledge no power but thine own mighty hand stretched forth to save me, for I am indeed beyond the help of men. So will I praise thy mercy and publish it abroad to all people and in all countries where I may be. Amen.
HANS STADEN'S HYMN
A man rejoicing in his strength and pride thinks not upon God, but drives with him.
Yet when tribulation comes upon him, then he lifts up his voice to the heavens.
For men are tried by God for their salvation.
Let none doubt that sorrow is a gift from God; for there is neither strength nor comfort, neither defence nor support save in God's name alone.
So shall a man bring up his children to know God and trust in him. And when trouble comes upon them they shall be comforted.
Know reader that in these my labours I seek no honour for myself. To God be the glory. He knows all the thoughts of men and searches out their hearts. May God's blessing rest on you and on me hereafter for evermore.62
THE END OF THE FIRST BOOK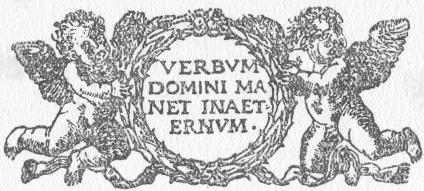 125
NOTES
[Only the notes pertaining to Part I are shown here.
See the Intro and Part II files for the notes corresponding to those parts]
8 I have translated Hans Staden's Meilen by "miles," but the reader must remember that a German mile equals about four English miles. It is not easy to fix correctly the measurements intended by Staden, but "league" would probably give a better idea of his distances than "mile." Setubal, for instance, is some twenty English miles south-east of Lisbon.
9 There is an account of the German colony at Lisbon in Ceylon and Portugal, by Pieris and Fitzler, Pt. I. Leipzig, 1927, pp. 298 ff. Miss Fitzler is engaged on a work Deutschland and Portugal vom 12. Jahrhundert bis zum Gegenwart, which will contain further information and documents. Germans were freely recruited to serve as gunners in Portuguese ships.
10 On the relations between the Portuguese and the French in Brazil see note 48.
11 An interesting sidelight on the conditions in Brazil in the early 17th century is contained in the Voyage of François Pyrard of Laval, Hakluyt Society, 1890, Vol. II, p. 313: "Brazil is so sorry a country that it would be impossible to reside there for long but for the traffic in sugar and wood; and even making the sugar entails great toil and trouble. . . . Of the Portuguese themselves the most part there are exiles, bankrupts and convicts."
12 This must be Arzilla, a small port about thirty miles from Tangiers, once in the possession of Portugal. Schiriffe is for Sherif, a descendant of Mohammed the Apostle [R. B.].
13 Portuguese albacora, the long-finned tunny, or germon. The bonito is the striped tunny known to sailors from its habit of playing round the bows of ships. See Purchas (reprint), XVII, p. 82: "The Bonito or Spanish Mackerell is altogether like unto a Mackerell, but that it is somewhat more growne: he is reasonable food but drier than a Mackerell." (Sir Richard Hawkins.) There is a description of flying fish in A Treatise of Brazil (1601), Purchas, XVI, p. 487: "The flying fishes are ordinarily of a spanne long or little more, it hath the eies verie faire, of a certaine verie gallant picture that beautifies it much, and doe seeme precious stones, the head is also very faire, it hath wings like Reere-mice, but of a silver hue: they are much persecuted of the other fishes, and for to escape they flie in flockes like Stares or Sparrowes, but they the not verie high, they are also good to eat, and when they flie they glad the Sailers, and many times they fall in the ship, and come in at the Cabbin windowes."
14 St. Elmo Fire. The name St. Elmo is a corruption of Sant' Ermo or St. Erasmus, a bishop, during the reign of Domitian of Formiae, Italy, who was broken on the wheel. He was the patron saint of Mediterranean sailors who regarded St. Elmo fire as the visible sign of his protection. To English sailors St. Elmo's fires were known as "corposants" (corpo santo).
15 Cabo de Santo Agostinho, a sharp promontory S. of Pernambuco.
16 Marin (Olinda), one of the oldest towns in Brazil, founded by Duarte Coelho Peireira in 1535.
17 Duarte Coelho was invested with the captaincy of Pernambuco on 24 September 1534. Pernambuco developed rapidly, and by 1587 it was described as "the greatest towne in all that coast and hath above three thousand houses in it with seventie Ingenios for sugar, and great store of Brasil-wood and abundance of cotton." Hakluyt (Everyman ed.), VIII, p. 172.
18 Iguarassú, which means a big canoe. It was one of the first factories founded by Coelho on the river of that name. Sir Richard Burton describes these savages as the Caetés, a warlike and cannibalistic tribe inhabiting the sea-board of Pernambuco. On the occasion mentioned in the text they had risen against the Tabayars who were allied to the Portuguese. The writer of the anonymous Treatise of Brazil (1601), Purchas (reprint), XVI, p. 442, speaks of the "contrarieties" between the Caetés and "them of Pernambuco."
19 Itamaraccá, a well-known island colonized by the Portuguese in 1535.
20 The country of the Potyguaras, or tobacco-chewers, a warlike race in Parahyba, inimical to the Portuguese. The anonymous writer in Purchas (reprint), XVI, p. 441, says: "Pitiguaras Lords of Parayba, thirtie leagues from Pernambuco, and have the best Brasill woode, and are great friends to the Frenchmen, and did contract with them untill now, marrying their Daughters with them."
21 Don Diego de Senabria succeeded his father D. Juan de Senabria who had been appointed to the captaincy of Paraguay in 1549, but had died in Spain before the expedition sailed. Southey, History of Brazil, 1810, I, p. 173.
22 Easter fell on April 21, so that the date of sailing would be 25 April 1549.
23 San Vincente, the town and harbour situated on the island of that name, superseded later by Santos. It was the first Portuguese settlement on the coast of S. Paulo and was founded in 1531. Until 1710 it remained the chief town of the captaincy. In 1581 San Vincente was described as "4 townes, the greatest whereof is called Santos and consisteth of foure hundred houses there and also three Ingenios." Hakluyt (Everyman ed.), VIII, p. 173.
24 Santa Catharina, one of the principal islands of S. Brazil.
25 Staden evidently quotes from memory. The correct Spanish would be: Si viniesse por ventura aquí la armada de Su Majestad, tiren un tiro y harán recado.
26 Asuncion, the capital of Paraguay.
27 Cutia. Near the city of S. Paulo there is still a village of the same name, variously written Cotía, Cuttía and Coteya [R. B.].
28 The Pelican Islands. They lie about forty-five miles E.S.E. of Santos.
29 Cananéa in the South of the State of S. Paulo, a harbour protected by the island of Abrigo.
30 Itanhaen, a small harbour, ten geographical miles from Santos harbour.
31 San Vincente, see note 23.
32 Uwawa Supe may have occupied the site where Santos after-wards arose, the first tenement being a Casa de Misericordia built by Braz Cubas in 1543 [R. B.].
33 Ingenhio (engenho) signifies a sugar plantation. See ch. xviii. The first engenho was erected close to S. Vincente by the governor Martim Affonso. When Staden was there the place was in charge of Peter Rösel, a factor of the banking and commercial house of Schetz of Antwerp.
34 Tupinikin, Tupinambá. These two tribes, which figure frequently in the narrative of Hans Staden, were branches of the great Tupi race which is supposed to have originated in the region of Uruguay, and to have spread northwards, monopolizing the coasts and the best river valleys. There were many branches of the same family, but they had the same customs and spoke the same language. See generally Die Tupistämrne and ihre Sprache in der Capitania S. Vincente (S. Paulo), by Klaudius Bode, in Korrespondenzblatt der Deutschen Gesellschaft für Anthropologie, Ethnologie und Urgeschichte, Brunswick, 1918, Band 69, Nos. 5/8, pp. 51 ff. E. J. Payne, History of the New World called America, Oxford, 1899, II, p. 429. Sir Richard Burton in his introduction to the Hakluyt Society's edition of Hans Staden (pp. lxii ff.), has much to say on the "Indians" of Brazil. The Tupinambá, as we shall see, were allies of the French, while the Tupinikin allied themselves to the Portuguese. See further note 48.
35 Brikioka=Bertioga on the mainland, opposite the island of Santo Amaro. Sir Richard Burton visited the Fortalezza da Bertioga in 1865 and described its appearance in his preface to the Hakluyt Society's edition of Hans Staden. The present reader is referred to the map (p. 58) and to the woodcut at p. 65, which explain the situation of Brikioka in relation to S. Vincente and Santo Amaro.
36 This is the island of Santo Amaro. See last note.
37 The offspring of white men and Indian women were called mamelukes (mamalucco).
38 Thomé de Souza became governor of the captaincy of Bahia in 1549. After thoroughly organizing the various districts he returned to Europe in 1553.
39 Bratti (Portuguese Tainha) were apparently a species of white mullet. The writer of the anonymous Treatise of Brazil (1601) in Purchas (reprint), XVI, p. 485, says, "a fish called Tainhas and a great multitude, and it hath beene tried that the Tainha beeing fresh and laid to the stinging of a Snake is another Unicorne." See below ch. xli.
40 On Heliodorus Hesse see note 3.
41 Giuseppe Adorno. The Adornos belonged to a noble Genoese family which settled in Brazil and founded a sugar factory at S. Vincente. Giuseppe is said to have lived to be a hundred. In 1589–90 he established the Carmelites at Santos, whence they passed to Rio de Janeiro [R. B.].
42 Guará is the Tupi name for the American flamingo. The bird is described in Pt. II, ch. xxxiv.
43 Peter Carder, who dwelt among the Tupi Indians for some months between 1578 and 1586, writes of the hammocks: "They hanged up their Beds tying them fast to a couple of Trees, being a kinde of white Cotton Netting, which hanged two foot from the ground, and kindled fire of two sticks which they made on both sides of their Beds, for warmth, and for driving away of wilde beasts." Purchas (reprint), XVI, p. 139. See below Pt. II, ch. vi.
44 A small settlement near San Vincente.
45 The Tammaraka is described later. Pt. II, ch. xxii.
[45a Letts has a word missing here! Albert Tootal's translation (London: Hakluyt Society, 1874), p. 63, based on the 1557 Frankfort-am-Main edition, has "vile" preceding "Jews". This caused editor JR to check a facsimile of the corresponding text in the 1557 Marburg original which Letts used, and it was found that "vile Jews" was in fact used (the German wording was "schnoeden Jueden"). This academic censorship on the part of Letts is to be decried. One wonders why he was so delicate about the Jews. –JR, ed. with thanks to C.W. Porter]
46 This was the club with which victims were dispatched. See Pt. II, ch. xxviii.
47 These stamping dances are mentioned by other travellers—e.g., the anonymous writer of the Treatise of Brazil in Purchas (reprint), XVI, pp. 427 f.: "their dancings are not sundrie changes, but a continuall stamping with the feet standing still or going round about, or stirring their bodie or their head, and they doe it all by such compasse and pleasantnesse as can be desired at the sound of a Timbrell."
48 Hans Staden's frequent references to the enmity existing between the Portuguese and French are not easily understood unless we know something of the attempts by the French to colonize Brazil. The French obtained a footing in Brazil not long after its discovery, and ships from Normandy were soon trading on the coast in considerable numbers, bringing Brazil wood and monkeys and parrots for the ladies at the French court. One of the most remarkable of these early adventurers was Captain Binot Paulmier de Gonneville of Honfleur, who sailed for the New World in June 1503. This voyage was the foundation of French trade in Brazil. The Portuguese did their best to suppress the French settlements, the French retaliated, and in 1532 Lopez de Souza attacked the French fort at Biberibe, hanged twenty of the settlers, and handed over two more to the cannibals. That the two nations thereafter sought every occasion to destroy each other is not surprising. The Portuguese sided with the Tupinikin and the French with the Tupinambá. One result of the French alliance was that numbers of natives found their way to Europe. De Gonneville brought back a youth of fifteen who was still alive in 1583, having married a relation of De Gonneville and settled down in France with his family, and there are frequent references in the 16th century to Brazilian natives at Rouen. Montaigne interrogated three of them there in 1563 (Essays, Bk. I, No. 31). See generally, Gaffarel, Histoire du Brésil français, Paris, 1878; Bréard, Les marins honfeurais, Paris, 1884; Relation authentique du voyage du capitaine de Gonneville, publiée par M. d'Avezac, Extrait des Annalles des Voyages, Juin et Juillet, 1869, Paris, 1869; R. N. Wegner's Begleitschrift in Hans Staden Faksimile-Wiedergabe, Frankfurt-a.-M., 1927, pp. 13 ff. A Brazilian king was presented to Henry VIII at Whitehall in 1530. Hakluyt (Everyman edition), VIII, p. 14. Sydney Lee in his Call of the West (Scribner's Magazine, 1907) deals with the vicissitudes of a number of natives who visited Europe during the age of discovery.
49 Called Karaya in Pt. II, ch. xi.
50 On these lipstones see Pt. II, ch. xv, and note 78. The anonymous writer of the Treatise of Brazil in Purchas (reprint), XVI, p. 426, says: "These Indians use ordinarily, chiefly in their Feasts, Collars which they make of Wilkes . . . they are round and some of them so long that they reach to their breasts, and it is ordinarily among the great and principal men to have them of a span or more in length."
51 Although Hans Staden speaks of cries of joy, this seems to be a reference to the weeping welcome, about which there is much in the accounts of the early travellers to Brazil. See A Treatise of Brazil in Purchas (reprint), XVI, p. 425: "When any guest doth come to the house, the honour and entertainment they make him is to bewaile him: Now the guest being come into the house they set him in the Net, and after he is set, without speaking any word to him, the wife and the daughters and the other friends do sit them downe round about him with their haire loose, touching with the hand the partie: they all beginne to weepe with a high voice and great abundance of tears, and there they tell in a versified prose all things that have happened since they saw one another to that houre, and manie other which they invent, and the troubles that the guest hath suffered in his journie; and all things else that may provoke pitie and teares. The guest all this time speaketh not one word, but after they have bewailed him a good while they wipe the teares, and remaine so quiet, so modest, so pleasant and merrie that it seemeth they never wept." See on the whole subject G. Friederici, Der Tränengruss der Indianer, Leipzig, 1907.
52 The detailed description of a cannibal feast is given in Pt. II, ch. xxviii.
53 The reference is to Braz Cubas, the founder of Santos, a noted man in his time. He died in 1592, aged eighty-five, and is buried at Santos.
54 In Pt. II, ch. ix, this beast is called more correctly Pacca. See note 72.
55 See note 39.
56 For the De Praga family see ch. xv.
57 For a full account of the Miraka (Tammaraka) see Pt. II, ch. xxii.
58 There is evidence to show that the horrible practice of handing over European captives to the cannibals was by no means uncommon. See G. Friederici, Die Behandlung der Kriegsgefangenen durch die Indianer Amerikas. Festschrift für Eduard Seeler, Stuttgart, 1922, p. 92; Gaffarel, Hist. du Brésil français, Paris, 1878, pp. 85, 95, 101-102, 128.
59 Vatierville on the Arques, Dep. Seine Inférieure.
60 This must be Le Havre neuf.
61 See ch. 1.
62 I cannot attempt a literal rendering of these doggerel verses, but I give the gist of them.
.           .           .           .           .           .           .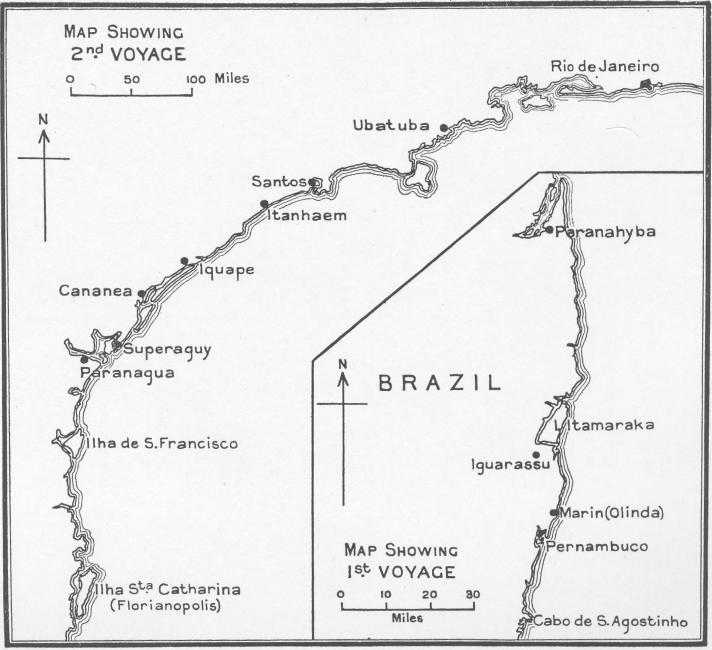 [at end of book   
This electronic edition scanned and edited by http://www.jrbooksonline.com  July 2006
Footnote 45a added 9/14/06.