The Website of Carlos Whitlock Porter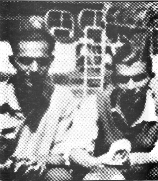 MADE IN RUSSIA - THE HOLOCO$T
Cover photo: healthy concentration camp inmates in front of swimming pool with sprinkler system, high diving board, and wearing wrist watches, photographed at Ebensee, Mauthausen, on May 6, 1945. Pictures appear in BILLER AUS DEM KRICH, Editions St. Paul, Luxembourg, photograph 257, no page number; on the same page. Photograph 258 shows overweight inmates posing with "living skeletons"; photograph 260 shows overweight, healthy, happy, smiling inmates on locomotive; this same photograph was also published in the Luxembourger Wort, May 6, 1985, p. 18; republished in the Luxembourger Wort on 21 April 1990, page number unknown. It is respectfully submitted that these photographs are incompatible with the myth of Nazi barbarity and cruelty.
[blink in disbelief]
--
No, you haven't been click-baited and, no, you didn't push the wrong button.
This is the Hervé Ryssen Book Seller site on www.cwporter.com.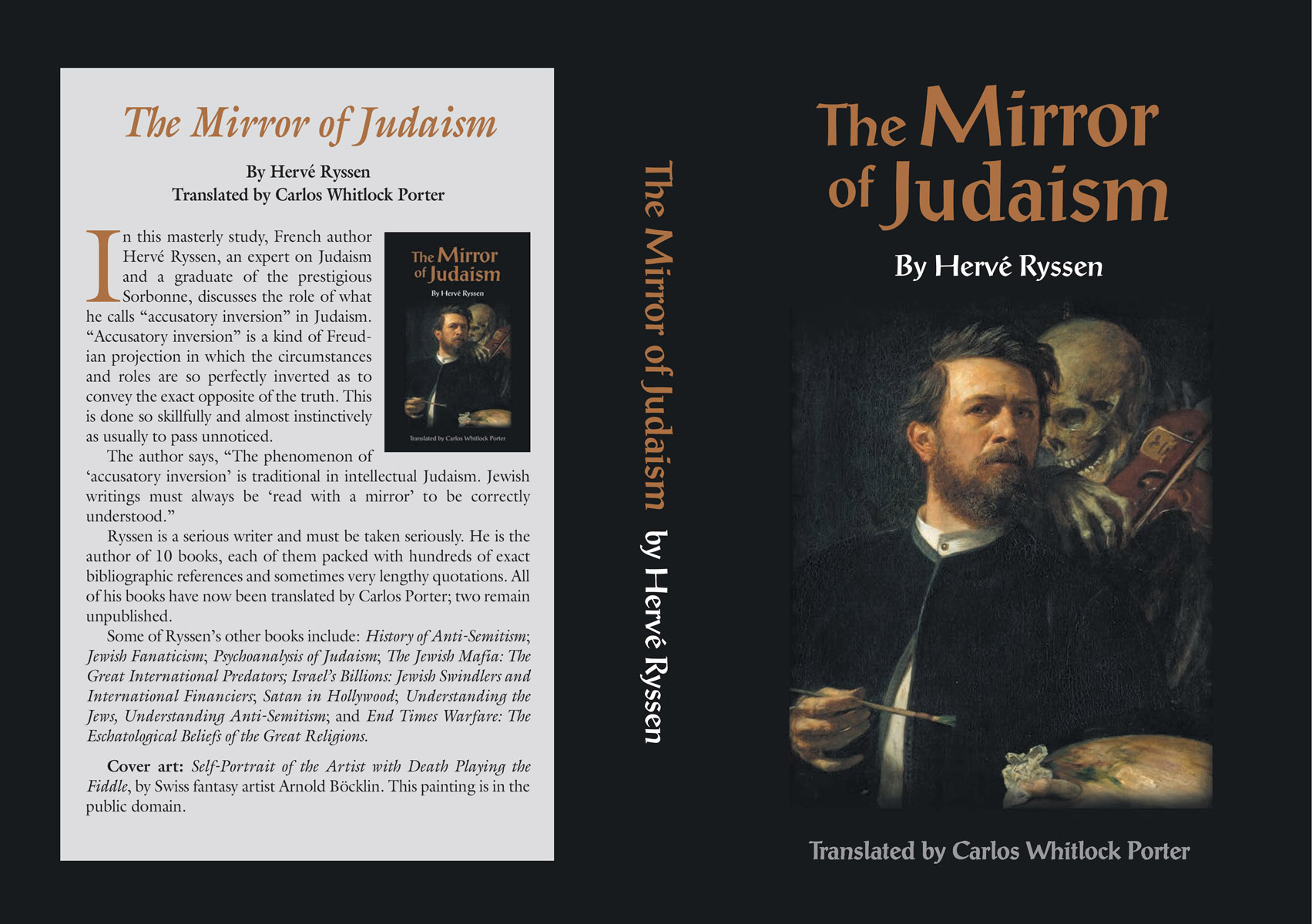 THE MIRROR OF JUDAISM
By Hervé Ryssen
Translated and published by C. Porter
Perfect-bound, 374 pp., 6 x 9", 5/8" spine width
[length: 23 cm x width: 15 cm x depth: approx. 2 cm]
THE MIRROR OF JUDAISM by Hervé Ryssen
is priced at US$ 28.00 per copy.

Please contact us for further information, putting BOOK in the subject line.
C. Porter
Thank you.

Please contact

ahtsllc@inbox5.com
or
ngan@inbox5.com
with BOOK in the subject line
and leave a message.
---
BOOK SALE
------------------
NOTE ON BOOKS AND OTHER PRODUCTS FOR SALE
MANY ITEMS FREE TO A GOOD HOME
If you don't see what you want, or have any questions, please do not hesitate to ask.
We have sold our jazz record collection.
We have many books on history, medicine and law (forensic medicine, cross-examination, practice of law generally); [for example, 2-volume IRS field agent's handbook; much foreign language material in Italian, Spanish, Portuguese, French and German and Latin.
This includes BOOKS and DVDs in French, German, and Italian (mostly comedies and classical-type films, such as I PROMESSI SPOSI, by Mario Camerini and starring Renzo Cervi, made in 1941; numerous classical films in Japanese on DVD. DVDs in Portuguese are in continental Portuguese only, with the exception of 2 copies of OS MAIAS, a luxury 4-hour Brazilian historical television production based on a famous Portuguese novel, but in Brazilian. Beautiful sets and scenery.
Many LATIN CLASSICAL works in paperback.
We also have a large box of "novelty" official-looking U.S. rubber stamps and embossing seals, complete with other accessories used in backdating documents.
All persons contacting me will be treated as friends. All information will remain confidential. I prefer e-mail to telephone. I am sometimes very slow to reply: I am disabled as the result of a stroke (in fact two strokes), and a mild heart attack, so that I can only work about four hours a day, usually in the morning or afternoon. So please be patient].

__________________________________________________________________________________________________________________________________________________________________________________
[Excerpt from THE MIRROR OF JUDAISM by Herve Ryssen, cover above; this and THE LAST TABOO OF JUDAISM are available from this site only.
]
In this masterly study, French author Hervé Ryssen, an expert on Judaism and a graduate of the prestigious Sorbonne, discusses the role of what he calls "accusatory inversion" in Judaism. "Accusatory inversion" is a kind of Freudian projection in which the circumstances and roles are so perfectly inverted as to convey the exact opposite of the truth. This is done so skillfully and almost instinctively as usually to pass unnoticed. The author says,
The phenomenon of 'accusatory inversion' is traditional in intellectual Judaism. Jewish writings must always be 'read with a mirror' to be correctly understood.

Ryssen is a serious writer and must be taken seriously. He is the author of 10 books, each of them packed with hundreds of exact bibliographic references and sometimes very lengthy quotations. All of his books have now been translated by C. Porter; two remain unpublished.
Cover art: Self-Portrait of the Artist with Death Playing the Fiddle, by Swiss fantasy artist Arnold Böcklin. This painting is in the public domain.

The Last Taboo of Judaism is also finished but has not been printed yet.
Original title in French:
L'ANTISEMITISME
SANS COMPLEXE, NI TABOU
Plaidoyer pour la liberté d'expression

Please contact us for any inquiries.
Contributions -- for the author, translator, or both -- accepted, with thanks.
All contributions will be correctly acknowledged.
----------------------------------------------------------------------------
NOW. BACK IN PRINT IN BOOK FORM. THE IMAGE OF THE GERMANS IN POLISH LITERATURE. Accompanied by POLAND AND FALISIFICATIONS OF POLISH HISTORY. by Else Löser. Translated by Carlos W. Porter. Also accompanied by a previously missing introductory text, "About the Author", by C. Porter. 3rd Revised Edition, 9 x 6 x approx. 3/8", perfect bound. 138 pages. See the above link for cover image and pricing info.
Next page:

https://www.cwporter.com/two2.htm
14 Apr 2023