Note: We are pleased to announce that many of my books are back in print in book form.


https://app.thebookpatch.com/BookStore/made-in-russia/18ae1db3-acea-4454-b3e1-6870dadd3522

http://ungraindesable.the-savoisien.com/index.php?post/Made-in-Russia%3A-The-Holocaust-VOST

http://www.balderexlibris.com/index.php?post/Porter-Carlos-Whitlock-Soviet-evidence-at-Nuremberg
http://ungraindesable.the-savoisien.com/public/English_section/Carlos_Whitlock_Porter_-_Made_in_Russia_The_Holocaust_-_English.pdf
-----
BOOK INDEX
completely revised new editions of the following:

Made in Russia - The Holocaust
(first page is blank, just scroll down)

Erratum:

Please note the misprint in most printed copies, top line, page 361 of Made in Russia: The Holocaust:
Perchlorformicacidmethyleseter = error for Perchlorformicacidmethylester

I stress this because "eseter" looks like a real word, but isn't. This might throw some people off.

(Corrected in pdf version below.)

click link or cover photograph -- either one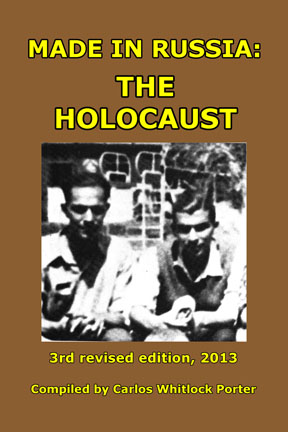 Made in Russia - The Holocaust
(first page is blank, just scroll down)


(New cover à la Book Patch)


See also:

Made in Russia: Companion Booklet to Video
http://ungraindesable.the-savoisien.com/public/English_section/Carlos_Whitlock_Porter_-_Made_in_Russia_The_Holocaust_-_English.pdf


Not Guilty at Nuremberg - now available in the following languages:

English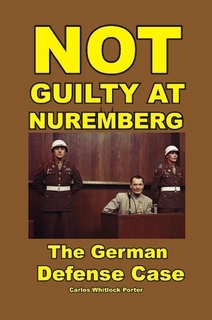 Errata:

Many of the extant copies of Not Guilty at Nuremberg contain the following error:

In the section on Rudolf Hoess,

"Document NO-036, p. 3, German text, answer to Question 25"
should be amended to read:
"Document NI-036, p. 3, German text, answer to Question 25".
(Corrected in pdf versions below.)

German (nicht in der "Bumsenrepublik" herunterladen - streng verboten! Crimen atrocissimus! Nyet!)


French
Hungarian
Italian
Portuguese
Spanish
Rumanian
Russian
Bulgarian
--
Selected Writings (in Russian)

Image of the Germans in Polish Literature and The Falsification of Polish History (by Else Löser)
Germany v Porter
Satires
Letters
Requiem for Rhodesia

War Crimes Trials and Other Essays
(Recommended)
Complete Text of Fourth Hague Convention on Land Warfare (NEW)

The Jews and Ritual Murders of Christian Babies by I.I. Lyutostansky
(written in Russia in 1911, translation commissioned by C. Porter)
Lebensborn and Herrenvolk
88-page collection of articles and original translations on the controversial subject of the reality of the Lebensborn organization and the myth of the "Herrenvolk".
Some years ago, a site called "scribd" stole the articles and compiled them into a book. They were charging people 5 dollars by credit card just to read it! I contacted them and said, "Look, I don't want you to take it down, just cut me in for a couple of bucks".
They never replied and simply erased the file.
Anyway, back from the dead, here it is:
https://ia801900.us.archive.org/30/items/TheLebensbornProgramAndTheHerrenvolk-FactVsFiction/TheLebensbornProgramAndTheHerrenvolk-FactVsFiction.pdf

Soviet Evidence at Nuremberg: The Katyn Report
(translated by C. Porter)

(Recommended)
Blood Passover
Translated by Gian Marco Lucchese and Pietro Gianetti

For books by Hervé Ryssen, translated by C. Porter and published by Barnes Review,
click here

Wouldst that mine enemy had written a book.
--

All rights reserved.
Permission is hereby given for reproduction on the Internet, with the exception of anything by Hervé Ryssen.
May not be reproduced in book form without special permission.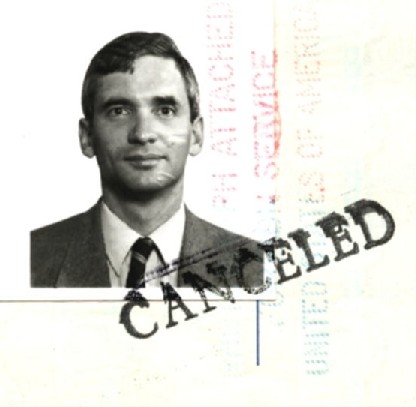 Back to "buy" page